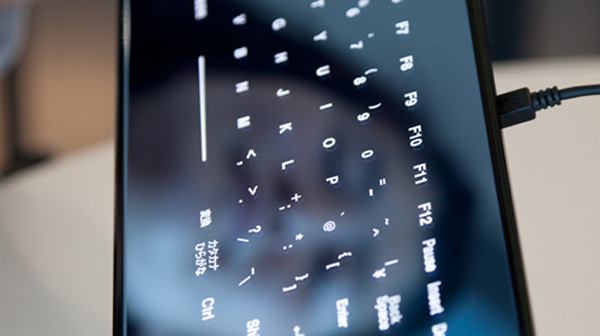 Back in March 2010, Minebea announced that it had developed a set of next-generation input devices under the moniker, Cool Leaf. The project started out as a concept by Dr. Kazuo Kawasaki, a design director and professor at Osaka University Graduate School. The idea was to create devices that are equipped with multi-touch keypad and conveniently designed on a mirror-like flat pane. Now, after 13 months of waiting, Minebea has confirmed that the first Cool Leaf input device – a USB mirror keyboard – is ready to roll.
The Minebea Cool Leaf Keyboard looks nothing less than cool. To start using, just insert the cable of the USB keyboard into its port. The completely flat keyboard has a touch panel. When turned on, you'll see that it is made up of 108 keys. Then a little vibration feedback comes out when a key is pressed. When turned off, the touch keys will disappear, and with the clear panel, it can pass off as a huge mirror.
The Minebea USB keyboard looks like a normal keyboard, with keys designed like that of the usual QWERTY and can handle multiple touch for your shortcut controls such as CTRL+ALT+DEL or CTRL+V, etc. Since it is made up of a completely touchscreen surface, anyone who's got a tablet or iOS would feel comfortable at first sight.
If you're a gamer however, you might as well forget using the mirror keyboard. Surprisingly, it lacks arrow keys, which are crucial when you're in the throes of a game.
Another issue I have is that it would take me forever to become a touch typist here. I would need to really look at the keys and make sure that my finger is on the right spot or else I'd have typos all over my screen. It looks like it takes some serious effort to use it properly.
The current Minebea keyboard model debuts May 13th.  It is compatible for Windows computers but the manufacturer has said it will roll out a Mac version come July. It's confirmed that a version for English, German, French and Italian are slated for a summer release as well. It currently retails for $245.
We think it's cool and innovative way to use USB technology. What do you think? We can't wait to hear from you!