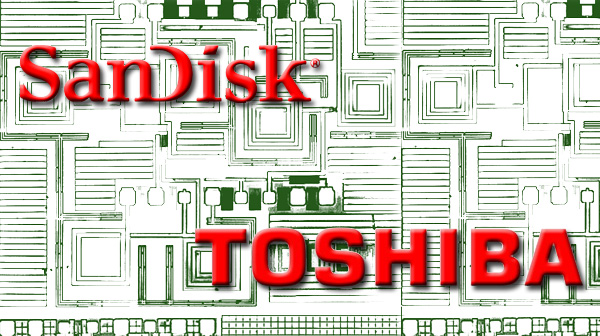 Japanese companies SanDisk and Toshiba are not giving up without a fight. A week after their competitors Intel and Micron collaborated to produce a 20nm NAND flash, the two computer technology leaders have recently combined powers to attempt a one-up.  The partnership announced that they will produce a component with more performance and sophistication: 19nm NAND flash.
Back in February 2008, both SanDisk (a world leader in USB technology) and Toshiba (the first company to invent and manufacture flash memory chips back in 1980) signed an agreement for a venture where they would build a new fabrication facility (fab) in Japan to meet the anticipated high demand in NAND flash memory.
SanDisk and Toshiba had planned to finish manufacturing their first line of samples last April and will be sampling a 64Gb 2-bits-per-cell NAND flash chip facilitated using the 19nm node process. What's more is the two companies have already announced plans of sampling 3-bits–per-cell units on the same advanced memory process technology node once the monolithic chip's production is in full swing in the second half of the year.
The 19nm NAND flash is the smallest, the most advanced, and the highest capacity NAND flash memory chip in the world today. It uses SanDisk's All-Bit-Line (ABL) architecture, which is equipped with proprietary programming algorithms and multi-level data storage management schemes.
The über-petite NAND flash is meant to enhance storage capacity and guarantee reliability in performance, making it ideal for mobile phones, tablet computers and other small devices.
Playing a vital role in USB technology, this component forms the core of the removable USB flash drives. NAND flash is a type of computer storage chip that can be reprogrammed and erased electrically. It uses tunnel injection for writing and tunnel release for erasing.
Toshiba said sixteen of these chips together can produce 128 GB drives for small peripheral devices such as your mobile and smartphone.
While it's expected to boast the lowest cost yet when it reaches the market, it will be nothing less than expensive considering that it will initially debut in high end technology products.
What are your thoughts on the new 19nm NAND flash? Is smaller truly better?