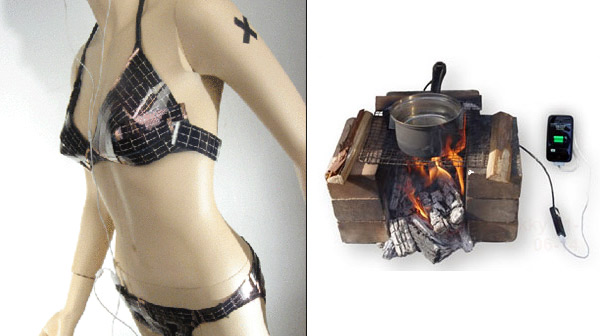 The latest gadgets, without a doubt, demand a lot of energy supply. But while the easiest and quickest supply comes from electricity, it is also the most expensive and most destructive to the environment. Now, two inventions are trying to change the way people use power by using both heat and sun to fuel our storage and entertainment devices.
While solar energy has been around for some time now, the iKini and the Hitochaja HC-5 are different breeds. Why? They may flirt with a novelty factor, but you'll find that they can be seamlessly integrated into everyday activities such as going to the beach and cooking.
Solar Bikini
Who doesn't love going to the beach or relaxing by the pool? The solar bikini, invented and designed by Brooklyn-based designer Andrew Schneider, is the perfect device (er, I mean ensemble) for all the ladies who loves bumming on the beach with their MP3s or iPods on.
What started as a joke he cracked while in graduate school at the Interactive Telecommunications Program at NYU, is now a unique invention that promotes sustainable energy.
The solar bikini is a USB charger made of 40 small photo-voltaic solar-powered cells sewn together in an organized manner, and a 1.5 amp Peltier junction or thermoelectric effect. Then the cells terminate in a 5-volt regulator for a female USB attached to it. These cells, with the help of the sun's power, generate an ample amount of current to host all your USB gadgets.
Surprisingly, Schneider said the design as well as the texture of the bikini is as comfortable as any piece of clothing. Besides, the solar USB bikini doesn't store energy so if you decide to swim, you may do so safely. Simply remove your MP3 or iPod.
This rocking swimsuit really steals attention. However, it'll cost you anywhere between $200 to $500. The solar bikini is pre-ordered and can be customized through Solar Coterie.  What's more is that Schneider also has men's solar swim trunks in the works.
USB Pot
It cooks, it charges, and it's another wacky Japanese invention that's turning heads.
Released by TES NewEnergy Corporation in Japan just days ago, the Hitochaja HC-5 USB power pot can generate up to 400mA of power enabling your iPhones to be charged in three to five hours.
While you cook—be it in your kitchen or the great outdoors—the excess heat generated by your meal is used to charge your gadget. So if you're a person who likes to go camping, this USB battery charger should be ideal in keeping you in sync with technology even if you're in the wilderness.
However, for a pot, $285 is just a bit too much. Currently, it is only available for purchase in Japan.  Nonetheless, the USB pot is an invention that has just enough crazy and just enough utility to it, that we wouldn't be surprised to see a cheaper version pop up in an REI or Cabela's store down the line.
Bikinis, pots and USB—oh my! Tell us what you think about these new twists of technology.