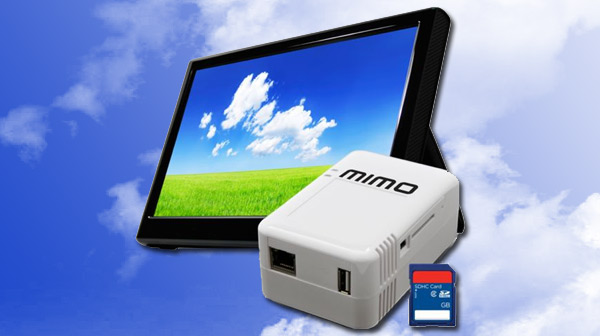 There have been constant efforts to reduce the size of personal computers. We have the laptops, the netbooks, and now the tablets. However, quite honestly, I have never seen a gadget like MimoPlug by Mimo Monitors.  Deskless and small, it's like a mini CPU designed for portability.
MimoMonitors, a leading manufacturer of USB touchscreen displays, has recently announced its new product named MimoPlug, a small cube-shaped plug and play computer device that is especially configured to work with mini USB touchscreen monitors.
Its makers claim it is the smallest, most portable and energy-saving computer available on the market today. Because the device is so small, it is ideal for travelers and on the go professionals who need something lighter than a netbook. And because it is not burdened by countless applications, the MimoPlug does not consume as much energy as other laptops.
What's even more exciting is that it runs the Linux OS on its 1.2GHz processing unit and 512MB of DDR2, with your choice of 4GB, 8GB or 16GB of flash memory. With this specs, who would think it's possible for a palm-sized mini-CPU? Now, you can think otherwise. The MimoPlug is designed to run task-oriented business applications, whether cloud computing or local, which do not require too much space and speed.
The Linux plug computer is able to connect to networks using Gigabit Ethernet and it's got a USB 2.0 port so you can connect your MimoMonitor or other peripheral devices. The high-speed SLC card also has great performance at 30MB/s transfer speeds. The MimoPlug also utilizes peer-to-peer connectivity over the net as well as other network protocols like the Universal Plug and Play (UPnP). While it can be outfitted for personal use, the MimoPlug and monitor translate to commercial and corporate environments as well such as retail and employment kiosks, hotel guest check-in services, network monitoring, control panels and video conferences, among other uses.
The MimoPlug works with your choice of MimoMonitors such as 720-S, 720-F, Touch2, eye9, and Monster, which measures like a netbook at 10 inches. The MimoPlug is also available with an eSata type II port. It is sold at bundle prices starting from approximately $400.
Do you think the MimoPlug and monitors help demonstrate the versatility of USB technology for Linux?  Or would you rather use a netbook, laptop or larger tablet?  Weigh in below!