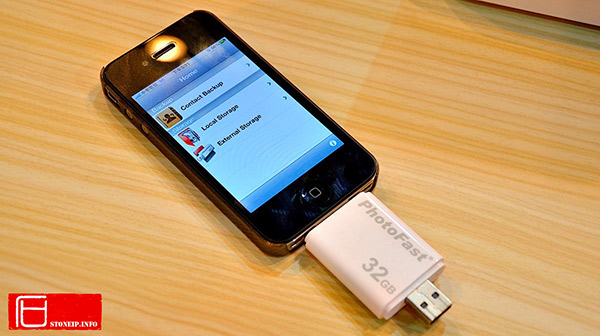 I don't know anyone with an iOS device who has not at one point or another complained about the fact that there is no USB port feature.  Others have lamented having to use other intermediary programs with their high dollar Apple product like iTunes, also complaining that there is no file manager included in any of the systems.
Their days are about to be made, because the PhotoFast i-FlashDrive devised a solution with one simple, memory dongle.  Talk about brilliant–a no fuss way to deal with Apple's messy proprietary problems.
The i-FlashDrive is an external storage device that has Apple's unique 30 pin connector on one end and a USB flash drive (which is what practically everything else in the world uses) on the other.
You can effectively plug the 30 pin connector into your iPhone, iPad or iPod and save the information you need on the i-FlashDrive.  Then, flip the gadget around and plug it into your computer to transfer the information to your system.
The new accessory doesn't necessarily come cheaply, but it probably is worth it for those who don't have a WiFi connection that is readily accessible.  Those fortunate enough to live in areas with saturated signals may not feel the need for an i-FlashDrive as much as those who don't.
One extremely cool feature is that it works with a free Cupertino approved application which can be located in the iTunes app store.  This provides contact backup, native MP3 playback and the external and internal file management as previously mentioned.
There is one minor drawback to this device.  For instance, it is a little larger than the devices we are accustomed to seeing these days, and it might prevent access to other USB ports when it is connected to your PC.  But for all of the convenience it brings to  Apple lovers, who can't work around that?
It is slated to begin at $95 for an 8GB, and $180 for the 32GB.  There is also rumored to be another median size i-FlashDrive available between the two price points.
The PhotoFast i-FlashDrive debuts in Taiwan later this month but will be headed to the U.S. shortly thereafter.  No word on a specific launch date.
Like it?  Love it? Leave it?  Tell us how you feel about the PhotoFast i-FlashDrive and its implementation of USB technology with the 30 pin Apple connector.