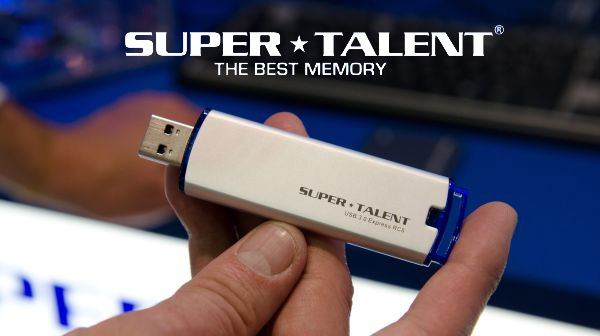 Look who's got real talent!
Storage solution manufacturer, Super Talent, recently introduced the USB 3.0 Express RC8 SSD, a flash drive that boasts talent and finesse from the inside out.
So why did we say that it's got the talent? Well, for one thing, the USB 3.0 SSD flash drive is jam-packed with advanced features that only high-class SSDs offer these days. First off, it has a USB 3.0 interface. Just imagine your data being read and written in speeds of 200MB/s. We're convinced that you wouldn't even have the time to switch TV channels, unlike when you're using a USB 2.0. Nonetheless, you'll only get that kind of speed when your PC's USB port is 3.0, too. However, the Super Talent RC8 is backward compatible with 2.0 systems.
But the real reason why we say it's a talented product is its main feature. The device is powered by SandForce SSD processor, which brings out the DuraClass technology and DuraWrite, both responsible for the flash drive's durability and data integrity. As Super Talent claims, this kind of power ensures unprecedented reliability.
This SSD flash drive has an 8-channel architecture and virtual caching system.  Super Talent obviously knows what consumers are hungry for—speed. SSDs like this have multiple channels working simultaneously for reading and writing. The data caching system, on the other hand, is able to produce high level, real world performance, just like any SSD today.
Featuring a sleek and portable metal chassis with translucent blue accents, it has a SF-1222 controller that you'll only find in an SSD. The new Super Talent USB 3.0 Express RC8 SSD has the same speeds as the SuperCrypt (which we also featured a few months ago) yet we wished for something a bit smaller, something we could carry around like a key. This new USB stick, we have to admit, has answered the call for portability.
The USB 3.0 SSD measures 93.5 x 25 x 8 mm, and comes in 25GB, 50GB ad 100GB capacities. Shipment is slated to start June 15th.
With USB 3.0 and a SandForce processor, is this flash drive too good to be true?  Talk to us about your likes and dislikes below!