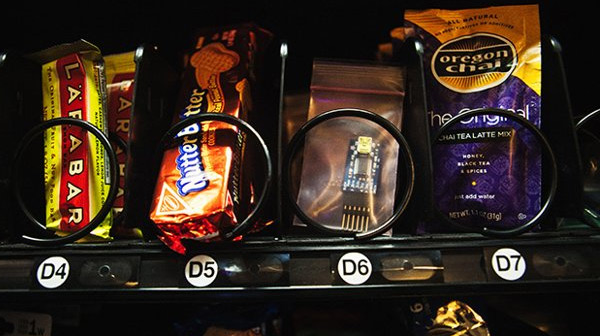 Who hasn't stopped by a vending machine for a cold soda on a hot day or a snack on a road trip?  Everyone has at some point or other, and we all love them because they are handy.  Well, imagine a high tech vending machine that provides the typical chips and snacks right alongside LED's, USB cables and Arduino kits.  Seattle's Metrix Create: Space Vending Machine brings this concept alive.
There are numerous hacker spaces these days where computer wizards and hobbyists can go to utilize space and equipment on a rental basis.  This allows them to do their work without forking out the dough to own all of the tools necessary to create awesome hardware.  Many of these are sort of 'member's only' clubs, however, and that is where Matt Westervelt, the founder of Metrix Create: Space has veered from the norm.
Anyone at all can come into his place of business and chill while using the bandwidth for no cost at all.  However, to use some of the high tech tools a hacker can pay anywhere from five bucks and upwards per hour.  The soldering room, for example, is offered at the reasonable price of $15 an hour.  Laser engravers and Makerbot, among others, are a little harder on the wallet.
And this is the home of the amazing flash drive vending machine!  Those who show up with everything they need except that one item that is needed to complete their life changing gizmo only need to mosey over to the amazing USB vending machine to get what they need.
Granted, there are some theoretical issues with having a flash drive vending machine (such as taking your money and leaving you with nothing; a general hazard of most vending machines) but it is a pretty awesome concept nonetheless.  This same machine also has everything from military style 'ready to eat meals' to ShamWows.  While these vending machines are not found on every street corner, they do suggest a giant step toward the mainstream availability of technology to many levels of users.
Give us your take on high tech vending machines that can serve up USB gadgets next to snacks.  Would you use one?  Better yet, have you used one?  Give us your take below!