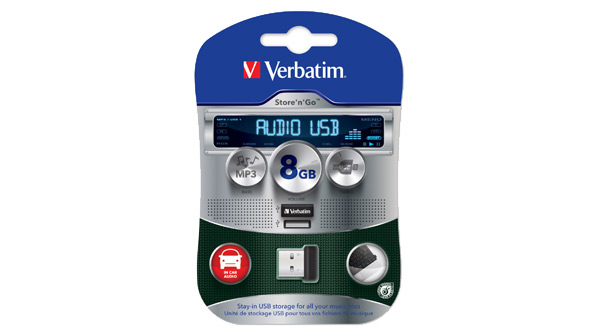 There once was a time when the only option for music in the car was either the radio or CD player; before that it was the antiquated cassette tape (yes, I am old enough to have had one).  Those days have long since passed with the advent of car audio USB becoming increasingly available in the dashboards of newer vehicles.
The only missing feature was a USB drive that was compact enough to hang in there through all of the bumps, slamming brakes and gear changes that the average driver goes through in a day.
Verbatim Store 'n' Go Car Audio USB flash drive is taking care of that problem in Europe right now.  Similar to the U.S. Verbatim Store 'n' Stay (if not identical), this  nifty little flash drive has been transformed and marketed for car stereo systems.  It is small and compact at about 17.15mm long and 7.7 mm deep; smaller than a euro (which is comparable to the US quarter).  This eliminates a lot of the previous problems with the thumb drive being too large for the entertainment console, getting inadvertently hit or damaged.
Actually, the shape is very much designed to fit snugly against the dashboard, and it's virtually snag proof.  For such a petite gadget, it packs a sizable 8GB.  While this capacity may not be suited to hold thousands of photographs or huge multimedia files, it can hold approximately 2,000 songs.  That is more than enough to keep you occupied on a cross-country road trip.
The Verbatim flash drive is answering the call for storing MP3 files on more than just our home computer or our iPods.  However, while it is designed for use in a vehicle, it can be used with any machine which supports USB 2.0.  In other words, it's designed for those with the USB port in their car, but this Verbatim Store 'n' Go can be used anywhere.
This is a practical solution to anyone who wishes to use that USB port in their vehicle without worrying about an intrusive device sticking inches out past their dash.
Do you use flash drive technology for your in-car entertainment?  Would you use something like Verbatim's Car Audio USB?  Tell us why or why not.