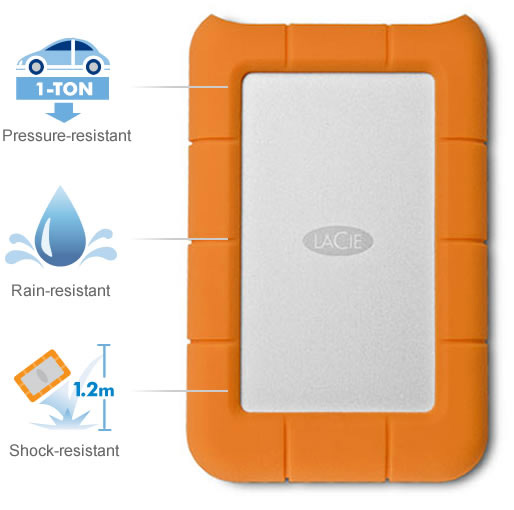 Throw it in your bag. Drop it on the floor. Toss it around like you don't want it anymore. But for sure, if you get your hands on this new innovation from LaCie, you'll have a hard time letting it go.
As the newest member of the company's external drives, the LaCie Rugged Mini has five layers of protection to withstand all kinds of abuse. Tough enough to withstand a 1-ton vehicle, it weighs merely 240 grams with a size that's 40 percent smaller than the previous generation's LaCie Rugged HDDs. What's more is the mini USB 3.0 hard drive is also more pressure, shock and drop-resistant than its counterpart.  The appearance of the aluminum casing stays intact thanks to its scratchproof coating.
LaCie Rugged Mini USB 3.0 hard drive was designed by Neil Poulton, a Scottish-born industrial and product designer now based in Paris. Flaunting an eye-catching signature bright orange bumper, the drive comes in three versions, namely the 500GB 7200 RPM, the 500GB 5400 RPM, and the 1TB 7200 RPM.
Now, you may say this custom hard drive looks and sounds great by appearances but what do its internal features offer? First, it is bundled with a year's subscription for10GB of Wuala Online Storage. Apart from that, it also comes with LaCie's very own Private-Public software with AES data encryption and password protection to keep one's files safe at all times.
Since the LaCie Rugged Mini works with a USB 3.0 interface, you can anticipate being able to download one HD movie in less than 3 minutes, 1,000 MP3 files in less than 42 seconds, and 2,000 images in about one minute. It transfers data at triple the speed of previous 2.0 versions.
Here's another important point. Since HDDs have heavy power demands, they're generally not very environmentally friendly. But the LaCie Rugged mini is otherwise. It is specially designed with an automatic eco mode that lowers power consumption by a humongous 40 percent, which also helps to boost the lifespan of your system.
Whether you're a Mac or a Windows user, you'd get the same joy using this little giant. The LaCie Rugged Mini USB 3.0 will be available soon in a 500GB models at $59.99 and 99.99, and the 1TB model for $159.99.
When it comes to the LaCie Rugged Mini, is smaller better?  Share your thoughts!