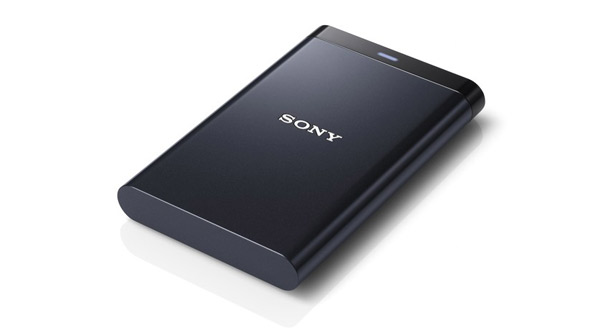 Sony has recently announced a new external USB 3.0 hard drive due out in mid-July. The drive will debut on the European market in the United Kingdom, Germany and France.  The Sony USB 3.0 hard drive offers a few more amenities than Sony's previous models.
The new Sony HD-PG5 series offers high speed read and write capabilities thanks to its USB 3.0 interface, but we have seen that before from other manufacturers.  It has a capacity of 500GB, which isn't all that impressive in an era of 2 and 3 terabyte external hard disks.  What really sets Sony's new USB 3.0 hard drive apart from the competition is that it is fully compatible with Sony BRAVIA televisions.
When connected to your BRAVIA television via USB cable, the HD-PG5U hard drive has the ability to record HDTV broadcasts and store them on the drive. No separate tuner card or software is required.
Better yet, the HD-P5GU can also connect directly to select models of Sony HANDYCAM video camera recorders. This eliminates the need to connect both the camera and the hard drive to a computer in order to transfer files between them. Saving videos directly to an external hard drive is a great idea for backing up home movies or for that extra space while on vacation.
As if all this weren't cool enough, this particular USB 3.0 portable hard drive also connects to a Sony PlayStation 3 and to your personal computer.
In comparison to other external hard drives, Sony's latest creation offers more than just good performance: it's also easy on the eyes. It comes in both a sleek black and white look with scratch resistant paint. It is lightweight and compact at 180g, which is about the same weight as half a can of soda.
Data transfer can be as much as three times faster with USB 3.0 compared to USB 2.0. Sony claims this new external hard drive clocks in at up to 5 GB per second.  However, even those who only have USB 2.0 could potentially see speeds of up to 480Mb per second.
On top of all of this, the Sony HD-PG5 includes some most excellent security and backup protection ready to use for all of your precious documents, pictures, videos and more.  The drive includes a Password Protection manager that is easy as pie to figure out.  It uses 256-bit security safeguards just in case an unauthorized user tries to get into your information without permission.
For authorized users, all that has to be done to get in is to unlock the date or key with your personal password when connected to any PC.  It is supported by Windows 7, Windows Vista, Windows XP, and Mac OS X.
Although the Sony HD-PG5 series external hard drive does not seem that special at first, it has several unique features not found in other external hard drives. Hooking up with BRAVIA televisions, PlayStation3 game consoles, and Sony video cameras makes this a hard drive a must-have gadget for the Sony fan in your life.