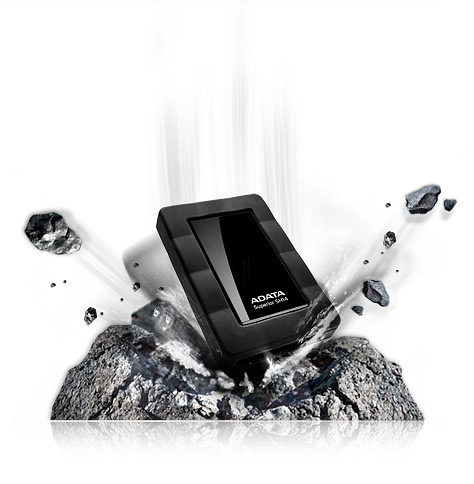 There are times when we can't help being clumsy—dropping, tripping and spilling things is what comes with the territory. Typically, electronics and careless handling don't mix, especially when it comes to vulnerable external hard drives.
But with ADATA SH14 USB 3.0 external hard drive, you can take some liberties. Drop it or knock it around a bit.  You can even splash it with water and it will still function as efficiently as before. That's because the new rugged hard drive has been designed with paramount durability wrapped in an easy-grip silicon outer shell, in your choice of red or black.  If you're the kind who's always on the go, always seeking adventure, then this shock and water resistant USB 3.0 portable hard drive is built with the ingenuity to keep up with you.
Since the ADATA HDD is equipped with USB 3.0, it works at an approximate 90 MB/s transfer speed. While this speed is dialed back significantly when using a USB 2.0 port, the backward compatibility offered by the interface makes it a versatile product for all users, no matter where you are on the consumer electronics spectrum.
Now furthermore, the USB 3.0 hard drive is packed with outstanding features including the OStoGO tool that allows you to convert your Windows 7 DVD to a digital format so you can boot your favorite OS from the ADATA SH14 hard drive without the need for an optical drive.  Its software synchronization tool, HDDtoGo seamlessly links your data, browser settings and email no matter where you travel.
There's also a 60-day trial of Norton Internet Security to keep your drive malware-free for the first two months of ownership.  The ADATA SH14 comes in 500GB, 750 GB and 1 TB capacities. Currently, you'll have to buy it online and have it shipped to you from UK.
We'd love for you to weigh in on the ADATA SH14 USB 3.0 external hard drive. Do you think this drive is worth the price plus shipping fee? And second, if you were to design a similar USB 3.0 hard drive, what would you improve on and why?