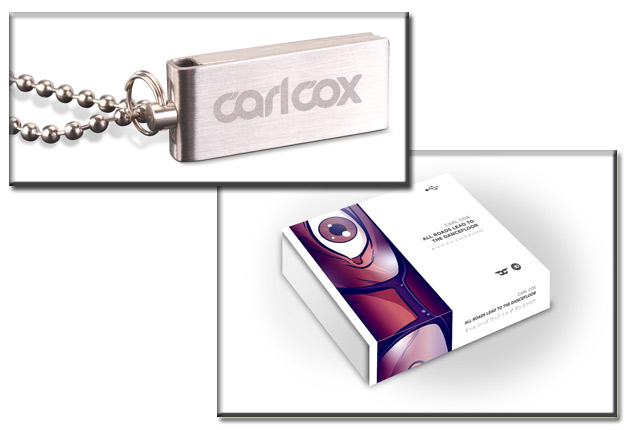 Techno music just got a lot more exciting as music producer and world famous DJ Carl Cox releases a USB music album featuring highly contagious tracks from All Roads Lead to the Dance Floor.  With his label, Intec Digital, Cox was looking for a completely new album experience for fans to get hooked on.
"The USB will not only give you the album, but it'll also be your key to everything I do in the next 12 months or so," the popular British DJ says.
By simply plugging in the USB, you're automatically connected to a CMS location where you can stream and download Carl's album and remixes and update your music flash drive. You will also have access to his global radio shows, exclusive videos, news and all other things Carl Cox.
Now, you don't have to be a clubber to appreciate club music, and that's the beauty of this hypnotic genre — all you need is your favorite mix and a medium to play it onto, you can start grooving – anywhere, anytime.
Made for the dance floor, this USB music flash drive features more than 12 tracks with various styles ranging from Vocal House, Dubstep, Drum and Bass Latin, aside from Techno. Of course, listening to it doesn't require you to be connected to the web all the time. You can use it while on a train, in a car, in a remote area or even on a plane. The entire USB package is released in three phases so you can look forward to new, exciting features every month.
The success of USB music albums has been demonstrated before. In 2007, Nine Inch Nails sold bits of their Year Zero album at their concert venues. Last year, The Fame Monster album by Lady Gaga sold out within 24 hours of its release. Music producers have done it to albums by The Beatles as well.  And in January of this year, we featured Norwegian dance-punk sensation, Datarock, who released a USB music flash drive with 110 songs, 20 music videos, concert videos and 1,500 photos.
With the release of Carl Cox's new album, it confirms that the revolution of music from optical discs to USB flash drive is in full swing. As the music industry continues to struggle with low sales due to piracy, USB technology is able to provide a needed solution, combining high technology and originality not so easily copied.
With USB music flash drives, artists and producers can choose to customize these devices in a way that stays true to their artistry and expands the horizons of what artists were able to with discs. They can also choose the storage capacity depending on what and how much music and multimedia they want to provide.
As Cox puts it, "I didn't want to just put it online and let that be that. I've spent too long on it, and it's too important to me to be degraded that way. I wanted to do something special with this release, something really forward thinking, and I think we've achieved it."
The sleek and silver custom USB flash drive is available now.
Love them or hate them—what are your thoughts on USB music albums?