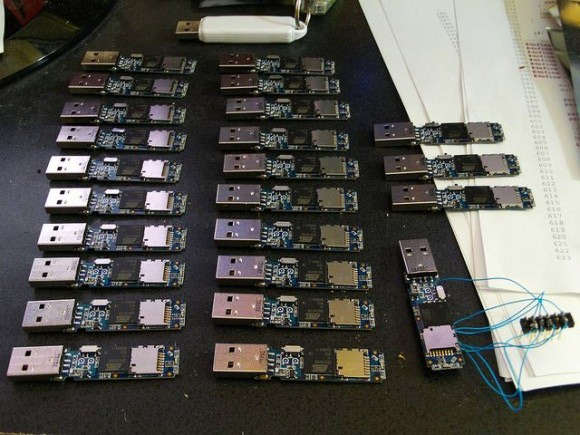 Most of us have experienced one of the most unfortunate of all digital accidents – our priceless laptops or PC computers crashing. There are times when the systems can still be saved; however, a lot of times they're cooked. And what could be more devastating than losing all of those personal and professional files? Now, one company is pitching for funding to finalize the creation of a flash drive that's going to solve this PC issue.
I'm talking about the Isostick USB flash drive, a Kickstarter project seeking funding to accommodate the expense of producing larger quantities while lowering retail costs.
USB troubleshooting is easier and more convenient, thanks to the Isostick.  Designed to be a USB stick that can act both as an optical drive and a recovery system, the goal of Isostick is to provide users with storage while doubling as a bootable device. The Isostick is able to back up the user's OS, as well as the settings and the files inside your laptop.
Basically a non-removable MicroSD card, the USB flash drive can read as fast as 12.5MB/sec and write as fast as 6MB/sec.
Now if you're a major techie, you'd be more excited to know that this invention allows you to load up not just one, not just two but multiple ISO images on the Isostick USB drive. This means you can save your CD, DVD or Blu-ray files, as your system will read the flash drive as an optical drive as well.  ISO files are true digital copies of the original which makes it easier to later burn to disc. (Just be careful not to abuse this ability or you may be charged with piracy!)
Another feature of the Isostick is the built-in "isosel" (short for ISO selector) which helps you select which OS you want to use when you open your PC. Does that mean you can use it for troubleshooting both your Windows 7 Vaio laptop and your Macbook Pro just the same? That would be awesome!
As a USB flash drive packed with 32GB of space, the Isostick utilizes the FAT32 file system to allow you to install your files of any format. It also has an LED to show drive activity, which you can turn off if you want; and a read-only switch to ensure you don't have overwrite any files or install any unwanted software that may harm the insides of your drive. However, only FAT32 ISO files are supported for reading as of the moment.
The Isostick USB flash drive is perfect for IT engineers, computer technicians, professionals who are in the field or individuals who use multiple computers in their day to day work grind.  The Isostick bypasses the need to carry multiple discs around.
With such promising features and functions, it's not surprising that Isostick's creators are continuously getting the funds they need. In fact, through Kickstarter, the USB stick has received close to $50,000 from more than 300 backers and counting.
When the product fully enters the market, the Isostick will cost around $100 for 8GB, $175 for 16GB, and $225 for the 32GB.
Thoughts, comments?  Do you think the Isostick is an investment worthy USB innovation?