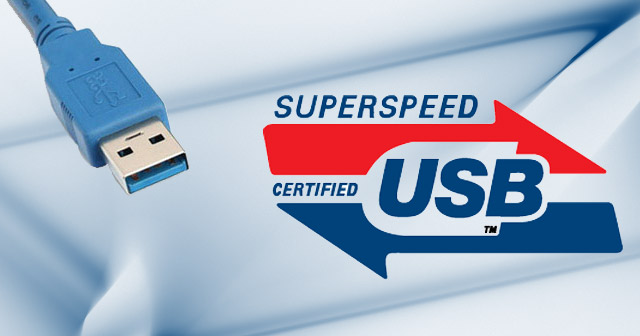 Come 2012, you just may be able to charge your notebook's battery while using your USB devices simultaneously from your system.  The USB 3.0 Promoter Group recently made a big announcement regarding the advancement of the SuperSpeed interface, essentially giving USB the power to be, well—a sole source of power.
The USB 3.0 Promoter Group is now bidding to significantly boost the capabilities and usage of cable bus power in USB applications to as much as 100 watts for USB 3.0.
The new USB 3.0 power spec is being dubbed USB Power Delivery, which is an upgrade of the maximum power from 4.5WmA to 100W 20A. According to the USB 3.0 Promoter Group, the power could be supplied in either direction without the hassle of swapping the cable. Moreover, this power can coexist with the USB Battery Charging 1.2 specification and works equally well with a USB 2.0 interface.
Could this new technology have enough speed to edge out competition from Thunderbolt?  According to reports, the answer is yes; the new SuperSpeed power spec is 10 times more powerful than Thunderbolt's 10W.
Now, aside from the ability to power everything at the same time from one point of USB reference such as a laptop or a PC, the specification improvement also means there is no extra power adapter is needed.  This not only translates to less expense for the user, but also less hassle.
On the other hand, if a powerful 100W isn't properly managed, it could potentially cause severe burning of cables or even short out the devices themselves. I've personally seen USB cables (probably made of inadequate materials) burn and melt due to overpower. That reminds me of the cable of my 6-month old HDD whose cable burned out while I was downloading multiple files (poor me).  What's more is that how will the addition of more power still be compatible with previous USB 3.0 specifications that outline power efficiency for data polling?
The USB 3.0 Promoter Group, which consists of Hewlett-Packard, Intel, Microsoft, Renesas Electronics, ST-Ericsson and Texas Instruments, is planning for a pre-release industry review at the Intel Developer Forum (IFD) in mid-September in San Francisco.  Meanwhile, it "intends to transition the final specification to the USB Implementers Forum (USB-IF) for publication and establishment of the ecosystem and associated compliance program."
Do you think the new USB 3.0 power spec will be as effective as it is envisioned to be? We'd love to hear your comments!