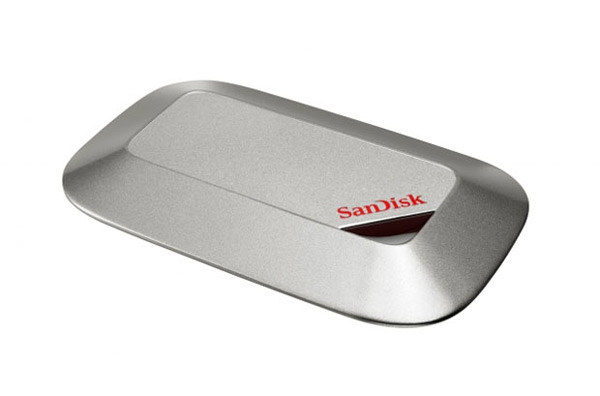 The SanDisk Memory Vault external USB hard drive is one of those innovations that you might fall in love with now, but despise years later.
After a survey concluded that 79% of U.S. adults want to pass their digital photos on to future generations, the memory maker is introducing the SanDisk Memory Vault hard drive.  Bold claims by the company state that the hard drive is built to last 100 years.
The SanDisk Memory Vault hard drive functions as a digital photo album that allows users to store and preserve images so they can pass on those wonderful visual memories of special events to the next generations of their families.
With an easy drag-and-drop interface, the solid state storage device looks sleek and robust from the outside with its slim, metallic design which ensures convenience storage on a drawer or shelf.
The USB 2.0 hard drive houses the Chronolock Technology which is the company's own unique feature that helps manage every file with precision, reliability and security thanks to countless data retention tests by SanDisk.
No flash memory company has broached inventing a gadget that could last for a century, and this may or may not be an issue. If you ask certain companies, there may be two reactions: 1-why didn't we think of that, or 2- why create something that will likely be obsolete 5, 10, 15 years from now?
Most companies looking at the bigger picture would rather evolve and improve their technology rather than just cleverly market a device that could technically last for a several decades, but not have the connectivity to use it in the future. As a result, such an innovation seems a little unnecessary—more like a quick profit than an actual solution.
After all, who could ever know or verify if this device will last for 100 years?  Does it come with a money back guarantee for our posterity? If the memory vault worked only for the first 50 years, will we ever get the chance to tell SanDisk to replace it with something of higher quality… for free?
I hate to say this but after all my doubts, I can't help but again think this is merely SanDisk's marketing strategy to sell an above average hard drive. But what if, let's say, SanDisk has invented another memory vault that is more powerful than this first invention, would SanDisk allow us to upgrade this first memory vault for free?  Most likely not.
And then another doubt crossed my mind. Come 2111, you'd probably have USB 30.0 already running, which could be a million times faster than this USB 2.0 device. So even if you have your 2111 version of a computer backward compatible, when you attempt to do a transfer, it will still not be able to read the data in the way you may need it. And last question, what will happen to the integrity of the picture files after a hundred years?
I'm not saying that this is not an effective USB hard drive; it will fulfill the data needs you have now.  But data needs 50 to 100 years from now?  Give me a break.
Thoughts?  Weigh in on the longevity of this USB Memory Vault below.