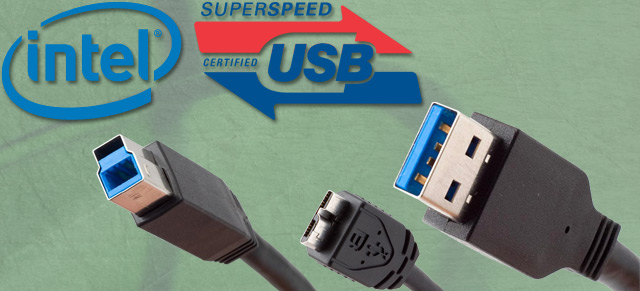 For those who are trying to figure out when the perfect time to buy a new laptop is, the most recent news about Intel's Ivy Bridge Silicon receiving SuperSpeed certification from the USB Implementers Forum (USB-IF) would most likely tell you that 2012 would be perfect. It's going to be a huge milestone for the computer industry that will have a deep impact on the next generations of computers.
(That is if the world doesn't end in 2012.)
The good news was revealed last week by USB-IF, saying that the upcoming Intel 7 Series Chipset and Intel C216 Chipset Family host silicon has achieved USB 3.0 certification. This certification covers four SuperSpeed USB ports being integrated into the chipset which will enable manufacturers to conveniently incorporate SuperSpeed USB into upcoming PC systems.
"Hurray!" and "finally!" are common reactions when people hear this news especially when they come to realize that this achievement does not merely benefit them in terms of upgraded technology but also because it allows for an opportunity for the elite USB 3.0 technology to reach the masses. Since it came out, USB 3.0 has been tough to most pockets and only those who have the genuine need for 10x speedier transfers would shell out hefty amount to get a USB 3.0 device.
But now, Intel is likely to become a big contributor to OEMs' developing more USB 3.0 devices. That means come 2012, there will most likely be tons of diverse devices supported by Intel and powered by SuperSpeed, which will then become a standard offering of various computer peripherals, mobile devices and other consumer electronics. Consequently, we can expect that these USB devices will be priced competitively – in such a way that is more reasonable and affordable to consumers!
Moreover, the certification also helps ensure interoperability and backward compatibility with the broad USB ecosystem.
Let's pray that the Mayan Prophecy falls short so we can enjoy USB 3.0-run PCs and laptops in the coming years, right?
USB-IF is going to host the USB Tech Zone at the Consumer Electronics Show 2012 in Las Vegas from January 10th to 13th, 2012. Intel will be there too to flaunt its new line of USB 3.0 Ivy Bridge chipsets.
What do you have to say about this Intel achievement? Don't forget to post a comment.