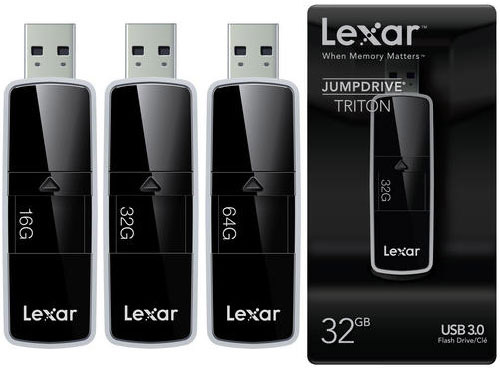 It could just be the perfect product for all of the data fanatics out there.
The Lexar JumpDrive Triton USB 3.0 is the newest in a line of innovative products manufactured by Lexar, an international leader in the semiconductor manufacturing industry. Using SuperSpeed technology enables the new Lexar flash drive to provide a stunning 155MB/s read and 150MB/s write speeds, making it one of the faster USB flash drives available today.
With this power, you can now quickly and easily transfer 100 songs in less than 20 seconds and a full-length HD movie in less than 40 seconds. Imagine how many minutes, if not hours, it would take on your older devices to transfer the same amount of multimedia. Novice 3.0 users should keep in mind that these speeds will only work at its optimum when the other hardware runs USB 3.0. But don't worry, the Lexar flash drive is backward compatible so it will work, albeit less quicker, with a USB 2.0 supported device.
Additionally, its compact form  (at 2.5" x 0.9 x 0.4" and only 0.2 ounces) makes the Triton USB flash drive one of the smallest high-performance USB 3.0 drives on the market, enabling users to manage, move, and store their content quickly and efficiently while on the go. The ultra-portable JumpDrive Triton is designed for users' utmost convenience as it fits nicely in your pocket. The device is perfect for on-the-go professionals or workers in the field who frequently transfer from one place to another.
JumpDrive Triton is available in 16GB, 32GB and 64GB capacities. It boasts a polished design combining metal alloy and a mirror finish top.  Additionally, it also has a retractable connector with a convenient thumb slide that makes it so easy to use even when you're busy using one of your hands.  What's more is that you don't have to worry about losing a cap and exposing the connector.
The Lexar JumpDrive Triton has been sold on Amazon since October at prices $69.99 (16 GB) and $109.99 (32 GB). However the new 64 GB USB 3.0 will be available on February for $199.99.  You should also note that the Lexar has a limited lifetime warranty.
Does the Lexar JumpDrive Triton make you jump in excitement or do you feel that there are other USB 3.0 devices that better suit your needs? Let us know what you think!