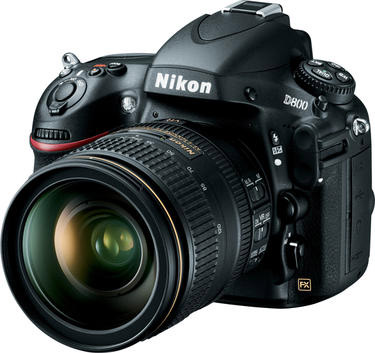 The USB Implementers Forum, Inc. has announced the first certified USB 3.0 SLR camera which will be available to the public at the end of March.  The Nikon D800/D800E are SuperSpeed USB cameras that offer some pretty awesome features with groundbreaking, expeditious speeds.  The difference between the two cameras, more or less, is that the D800E provides sharper images and eliminates the anti-alias filter.
The USB 3.0 Nikon D800/D800E offers dual memory card slots and a 3.2" LCD screen.  Although each one is still pretty much the same hefty weight of other cameras of this quality (about 2 pounds), it also produces excellent quality photos at an amazing 36.6 megapixels and has 1080/ Full HD.
All of these factors are great, of course, but what has everyone talking is the uber-fast transfer performance that is a shutterbug's dream.  Basically, they have all of these fantastic characteristics for both photography and videography purposes, as well as a 10X data transfer rate of the typical hi-speed USB device.
Not only do they provide a far less strenuous and lengthy way of transferring data, they do so while remaining compatible with all of the USB devices that we use every day.  In other words, these two cameras offer far swifter transfer speeds than other digital cameras before now, but can still connect with the same old PC, phone or tablet that consumers are presently using; no crazy and expensive upgrades required.
Now, it is certain that there are some additional items that are essential to the proper use of these cameras.  For instance, a consumer will certainly need to invest in a super-fast memory card that can keep up with this camera.
Jeff Ravencraft, USB-IF President and COO, said it best when he stated that by streaming content within seconds, the USB 3.0 camera would, "revolutionize the consumer and photographer/videographer experience of transferring hundreds of photos and streaming videos."
The D800 is going to run around $3,000 while the D800E will be about $300 dollars more.  For those who are serious about photography and videography, it could be money well spent and timesaving that adds up.
Thoughts?  Comment below.