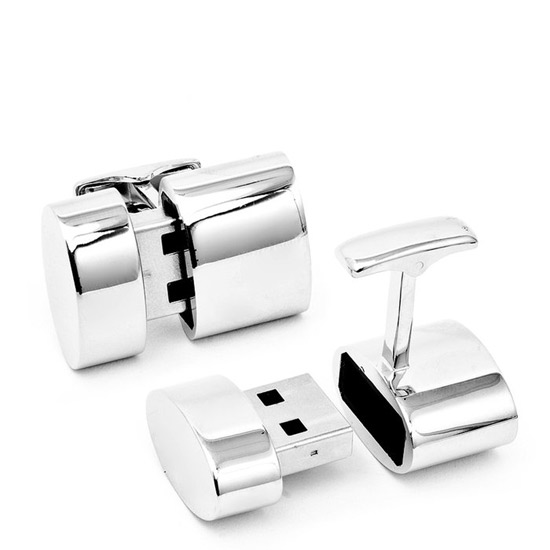 Decades ago, businessmen and geeks lived in very separate worlds.  However, now that every business depends on mobile technology, it's not a surprise to see that these two worlds have not only merged, but would also have the same sense of fashion.  Case in point—the Brookstone Polished Silver Oval Wi-Fi 2 GB USB Cufflinks.
Brookstone has been known for adding innovative touches to everything from massage chairs to doormats and rags, to Bluetooth devices and fitness trackers. Now, they have come up with something even more unique – a USB device that's fit for James Bond.
Aptly called Brookstone Wi-Fi cufflinks, these fashionable accessories are oval-shaped and shiny silver. Wear it on to any formal occasion and have the peace of mind that your files are with you no matter where you go. That's because the cufflinks feature USB 2.0 along with 2GB of memory storage, which is more than enough for priceless files that you would rather no leave at home.
In the event that your Wi-Fi shuts down or is lost, you have an alternative. Just find a computer with an internet connection, plug in the USB flash drive, download the required free software (which will barely take a minute if your connection's fast) and you can now create another hotspot for you and for the other guests.
Now while there are other laptops that already have this capability, most users are in it for the cool factor. Additionally, it saves you from paying extra Wi-Fi charges to get all your wireless devices connected. Now if you are a businessman, you can also use the device to create a hyper local network for sharing media and files with your colleagues.  Not to mention, this accessory will be a great business icebreaker.
The Brookstone Wi-Fi Cufflinks will cost you $249. We think it's worth the fashion and function. What do you think? Share your thoughts below!