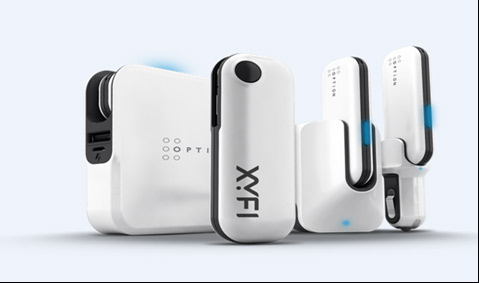 When you're a traveller, you always want to pack light, and carry with you the smallest gadgets possible. For people who are always on the go, portability and functionality should come hand in hand.  So here comes a new tool designed with those kind of users in mind: the new Option XYFI (read as X-Y-Fi). It's touted to be the smallest 3G WiFi hotspot to hit the market to date.
The new Option XYFI was one of the many new devices introduced at the recently Mobile World Congress in Barcelona. It was an interesting device not only because of its stylish design but also because it was made by Option, a Belgian firm that used to be big in the USB modem and embedded wireless module market. After being hauled back by competitors Novatel and Sierra Wireless who are making it big in with MiFi hotspot, the new device seems to be sweet vengeance for this market player.
The new Option XYFI is a white USB stick with a rotating port and a signal light on one of its corners. Powered by USB technology, it also includes a wall and car plug, plus an extended battery pack that is said to last up to eight long hours when fully charged! That means this device is offering all day connection without hassle.
While the XYFI scores a perfect 10 in portability, how does it perform in functionality?
The Option XYFI can easily be plugged into any power source, be it your PC or an electric outlet. Once plugged, it can allow up to eight devices connected on HSPA +14.4 3G connection.  On the road, the white power pack, though a tad larger than other hotspot, can run up to 8.5 hours and offer connection while on the road.
Now once the XYFI is sold by a carrier, the device can easily jump into any WiFi hotspot. The Option device can automatically switch from 3G and WiFi when required – without disconnection or hassle on your part. Unfortunately, it's not 4G capable.
Finally, the device also works as a USB flash drive. With its integrated MicroSD memory card slot that's best coupled with streaming capabilities, you can share your media files as well.
However, many tech analysts predict the Option XYFI will not gain a strong following. There is not much of an improvement when it comes to function; it's just a smaller device with an updated version. When it comes to carriers, well, it doesn't seem like a lucrative idea to open internet sharing to consumers. Given that, telecom companies may need to see more evidence before considering teaming up with Option on this. One last question, would people really care about sharing? WiFi on mobile already works and there are plenty of WiFi hotspots everywhere.
The Option XYFI has no release date as of yet and rumor has it that it will be sold at around $100.
Do you think this USB device will make any waves in the mobile hotspot market? Why or why not? Comment below.