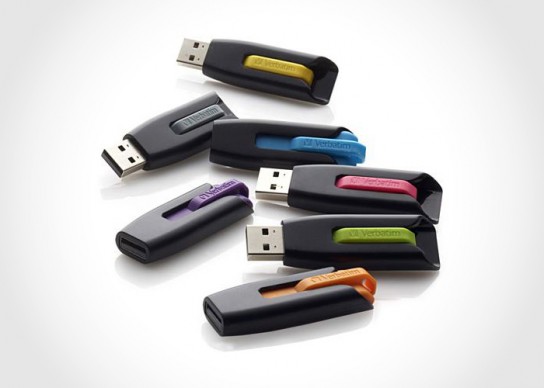 When buying a USB drive, try to figure out what you will be using it for. Are you going to use it to store hundreds of files from work? Are you going to use it while you travel around the world? If you are looking for a device that is fun and colorful and works just like any other sophisticated USB, then the Verbatim Store 'n' Go V3 USB should satisfy your needs.
Verbatim, an internationally renowned maker of data storage technology devices that include portable hard drives, Blu-ray discs and CDs, has come up with a new colorful breed of USB devices that runs in SuperSpeed USB 3.0.
With seven colorful variations, the Store 'n' Go V3 USB will work for those who are looking for style, especially those who like their devices in lively colors. Verbatim's USB 3.0 drives are cap-less and have a sliding capability so the user can easily retract the USB connector while not in use. There is also a hole to easily attach a lanyard or USB holder so the device can go anywhere, making it perfect for anyone who's on-the-go. The V3's backward compatibility also allows it to be connected to older USB versions.
The V3, however, is not as fast as expected. Considering that it uses a USB 3.0 interface, it is only twice as fast in transfer rates compared to USB 2.0. This is probably the only huge setback for people who are looking to buy a Verbatim Store 'n' Go.
On the other hand, if you're in it for the price, then by all means buy it. At $19.99 for the 8-GB, a price that is nearly the same as that of most USB 2.0 flash drives, it is indeed cheap. Plus, you'll love Verbatim's lifetime warranty. The storage capacity ranges from 8-GB to 64-GB (prices vary).
Do you think the Verbatim V3 USB 3.0 is worth your penny? Let's us now what you think!