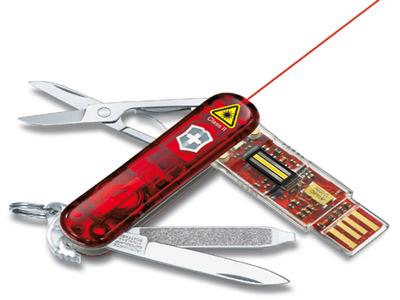 Victorinox introduces the Presentation Master, a digital Swiss knife with a USB stick that has some pretty serious security options.
We talked about the Victorinox Presentation Master after attending CES in January. It was definitely a hit then. We are still enamored with it and wanted to give this awesome little tool its own day in the sun.
Two factors play a part in carrying Victorinox products – status and practicality. Whether it be their world-famous pocket knives or luggage, you present an heir of sophisticated calm when you use the Swiss products The same is true for the Victorinox Presentation Master, a digital Swiss knife complete with blade, scissors, nail file, Bluetooth PowerPoint handler, Laser Pointer and USB drive. This USB stick is no average plug and play flash drive – it features AES 256-bit hardware and software encryption and a bio-metric fingerprint scanner for access. The USB stick is a storage as well as a backup device where you can sync all your files, media and even desktop settings and bookmarks. This device is clearly the securest and sexiest way to carry your data around – it is impossible for someone to steal your data since the USB stick self-destructs when attempted to open by brute force. Even if someone cuts your finger for accessing the data from this device, his attempt will be in vain since the device scans the oxygenation level of the blood flowing on the finger that is swiped – no living tissue, no access. In other words, it's the USB drive James Bond would carry.
You could flaunt the device in meetings using it as your remote control for your presentation. There are 2 buttons available on the device for switching between slides. The Laser Pointer is also very efficient, with perfect clarity up to 10 meters away. The USB module can be detached from the device so that you can take it aboard flights.
The Victorinox Presentation Master, even with its sexy look and 007 style security features seems a tad pricey at $170; there are cheaper devices available with very similar security features. Another major setback is that the device is not compatible with Mac or Linux. The device is now available on Amazon.