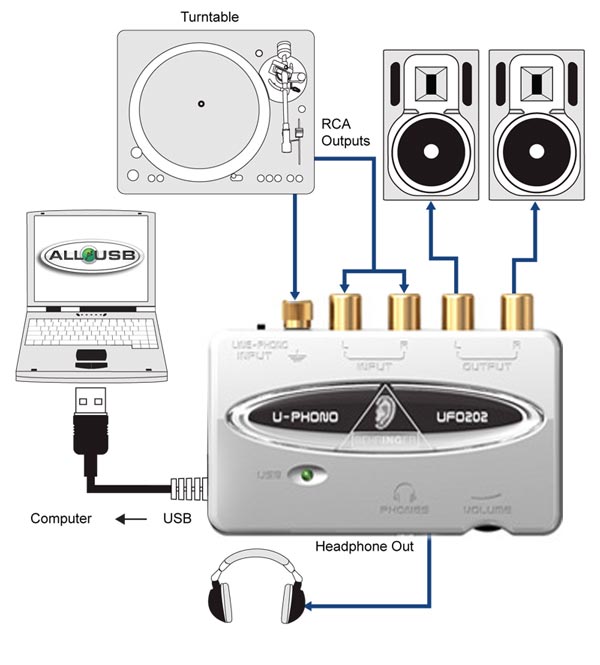 I would love to see my grandmother dance to the beat of Billie Holiday, Benny Goodman, Bing Crosby and the likes while listening to my iPod. Fans of classic songs, especially if you only have them on vinyl, will love the Behringer USB device, a cost effective way to transfer analogue vinyl records and cassettes to digital formats.
With the fast and continuous transition in terms of media storage devices and with the rise of new technologies, older versions of media storage devices are easily out-dated. After LP records, audio cassette tapes dominated, and a lot of great albums and records emerged during the time of cassettes. Most collectors of old records hold on to these original album records in the form of vinyl and tapes but often have difficulty transferring them to current devices such as computers, mp3 players and iPods.
Behringer developed the idea and built the U-Phono UFO202, a USB device that provides a simple and affordable means of converting your vinyl records and analogue tapes into digital forms instead of letting them collect dust lying around on your shelves or closets.
The U-Phono device links to your Mac or PC by means of USB technology and it utilizes certain software to translate analogue signals from vinyl records and cassette tapes into digital format such as .wav or mp3.
As with any analogue to digital media converter, the quality of the output is of utmost importance. The device is definitely equipped with high quality audio software called energyXT that is used for the conversion process and it is compatible with a lot of music editing programs. It is not simply a single application but a complete package that caters to the various aspects of audio conversion and sound quality such as noise reduction, recording, editing, and many others.
One of the great things about U-Phono is that it can connect to the majority of turntables and cassette players providing versatility and several options in the conversion process of your old records and cassette tapes. However, to be able to utilize this feature and to maximize the overall capability of the device, users may be required to make additional purchases. The device does not include the cables you need to connect to the preferred tape deck. Also, U-Phono does not appear to be the easiest device to use, and it takes a while before a user gets comfortable navigating around the features and tools. In addition, it offers limited technical support available through email and the Behringer website.
Overall, U-Phono is really a product to look into with its many features and tools. For people with tight budgets, U-Phono is a great deal, sold for only about $34. It is low-cost particularly when compared to USB turntable or other USB powered audio capture devices. Users just have to be prepared to spend time learning their way around the device's interface and to make some additional purchases to experience the maximum capability of the device.
Does the U-Phono UFO202 sound like a device that is useful to you? Don't forget to share your thoughts here.