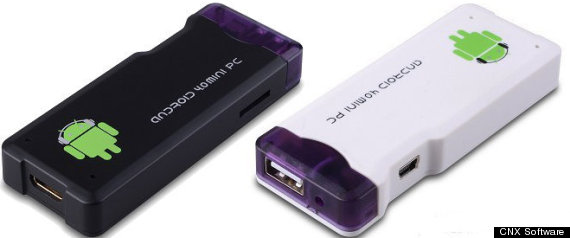 In line with the technological revolution of making things smaller so they can be more portable, the dream of having a pocket-sized PC comes through with the release of the USB-sized processor called the MK802 Android 4.0 Mini PC. At an introductory retail price of $74, it is the cheapest of its kind in the market to-date.
Its size is about three and a half inches, which is remarkably small compared to others, and it has an incredible AllWinner A10 single core 1.6GHz ARM CPU and 512 MB RAM that instantly works when connected to a monitor or any device through a USB port.
The MK802 USB PC also runs with the Android 4.0 Ice Cream Sandwich (ICS) Operating System and features several ports including an HDMI port, a USB 2.0 port, micro USB port and a microSD slot. Aside from these, it also serves as a Wi-Fi connectivity device that enables users to access the internet anytime and anywhere, provided that Wi-Fi connection and USB-ready monitors are available.
While it has limited storage of only 4GB memory, users may expand its memory up to 32GB through an external memory card or a microSD card.
Now, you'd probably say it's the same as the FXI Cotton Candy which we featured previously. But it isn't. The FXI Cotton candy makes use of A9 Dual core processor 1.2GHz ARM CPU and has 1GB RAM offering faster data processing and larger data storage.
But if you have $74 hanging around not going anywhere, then by all means, purchase the MK802 Mini PC. One more thing, it's only sold online by Chinese retailers. So basically what we're saying is that it's best for you to consider factors such as budget, durability and amount of data storage before buying.