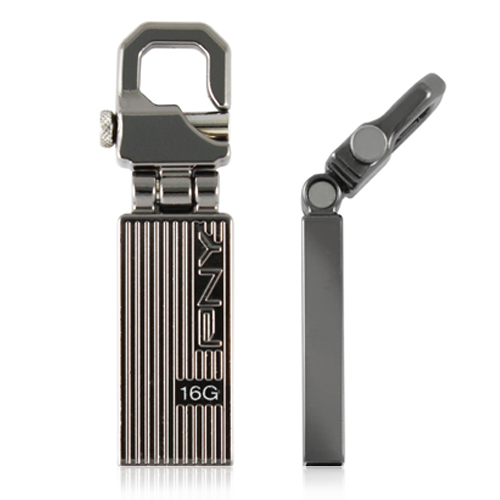 Transformer really is the right word to describe this sleek, metal hardcore USB drive. It makes a statement: Strong and in charge. It is also a flash drive that upgrades the flaws that typical USBs are naturally at risk of from drops and breaks because they are almost always made of plastic materials that can crack with one hit. And since they are pretty small, they're also easily lost. Inspired by all these concerns, PNY introduced the Transformer Attaché USB flash drive.
PNY Technologies Inc. has made a name for itself after numerous innovative creations in the form of memory products – memory cards, USB flash drives, SSDs, and so on. And now, it reaches another milestone as it introduces the PNY Transformer Attaché USB Flash Drive.
This USB stick demonstrates great engineering that is incorporated with the popular hook design made famous by the PNY Hook Attaché. The Transformer USB is capable of a 180 degree rotation and can transform to change its form.
The Transformer Attaché has a compact capless design with a total weight of 8.78 grams, with a casing made out of high quality stainless steel with an elegant and sleek finish to provide a professional look and add up to its durability. This makes it a real standout among other USB sticks that are plastic-framed. Hence, the Transformer Attaché is capable of handling rough usage and its corrugated line style projects sturdiness and style at the same time. This inventive casing also provides protection from dust and other nature elements while also being water-resistant.
The hook and lock feature, on the other hand, fused with its design provides flexibility, allows the device to be attached to numerous objects like belts, bags, lanyards, key chains, and many others.
The Transformer USB flash drive runs with USB 2.0 so do not expect it to run overwhelmingly. More importantly, however, is that it runs on Windows 2000, Windows XP, Windows Vista, Windows 7, and Mac OS: 10.13 and higher.
PNY's Transformer Attaché USB Flash Drive offers a unique and interesting flash drive technology and is available in 4GB, 8GB, 16GB and 32GB storage capacities and reasonably priced at $9, $16, $26, and $54 respectively, all with 5 year warranty.
This USB 2.0 flash drive definitely took my breath away with its style and function. What do you think about this device? Do you think it's worth the price?