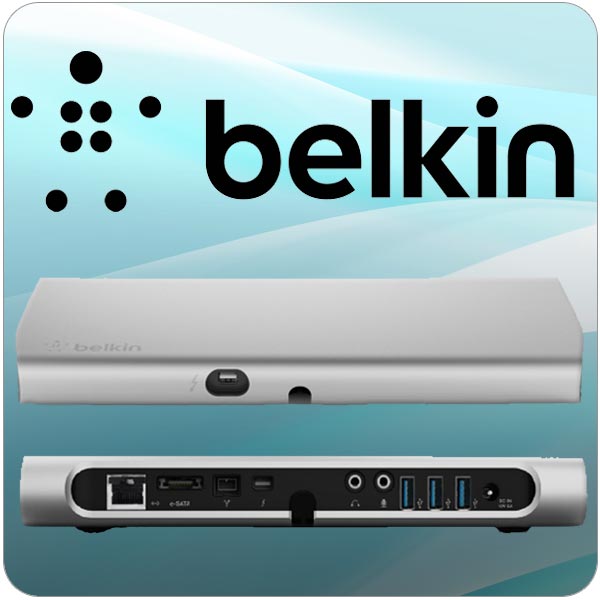 You love your MacBook Air for its style, sleek body, and light weight – but if there is one thing that the MacBook Air users hate about it, it is the lack of multiple USB ports to support various peripheral devices. Sure, the MacBook Air has a Thunderbolt port, but the number of Thunderbolt enabled devices in the market are limited and most of them are made by Apple themselves (and therefore expensive). Belkin came up with a solution and introduced the Thunderbolt Express Dock which enables connectivity of USB 3.0 devices via the Thunderbolt port. The Thunderbolt Express Dock was initially introduced in the CES 2012 featuring USB 2.0 ports. It was eventually redesigned so the current model features three USB 3.0 ports instead of USB 2.0.
The Thunderbolt Express aims to make maximum use of the Thunderbolt port of your Macs and it features 2x Thunderbolt ports, 3x USB 3.0 ports, 1x FireWire 800, eSATA, Gigabit Ethernet ports and also a 3.5mm audio in and out ports. The company has also announced that the two Thunderbolt devices on the dock will support daisy-chaining.
The Thunderbolt Express was announced in January 2012 and was obviously made keeping in mind the requirements of earlier MacBooks which did not feature USB 3.0 ports. Now that the new range of MacBooks and MacBook Airs feature USB 3.0 ports, the only area this Thunderbolt Dock will be relevant is where MacBook Air users might need multiple USB 3.0 ports for connecting multiple peripheral devices. All the other ports in the dock are either already available in the MacBooks (audio jack, Thunderbolt ports) or outdated for general use (Ethernet, eSATA). Also, the company has announced that the devices shall be available only by September even though they were announced way back in January this year.
Belkin has also introduced its own Thunderbolt cable which will be 3 feet long and will be available at an affordable price of $45. The company, in its official press release has announced the MSRP of the Thunderbolt Express Dock to be $399.