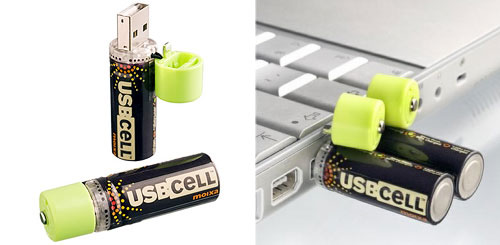 One annoying thing about rechargeable batteries that you use in cameras and other devices is that you need to remember to charge them regularly to use them on the move and you need to carry the charger adapter and cables while traveling. One Stop Green is part of a revolutionary product in the world of mobile electronics by introducing rechargeable AA cells called USBCELLs that can plug on to a standard USB port on any device and are recharged. Well, that is not about it, unlike the conventional rechargeable batteries, these are not alkaline and are eco-friendly. One Stop Green USBCELLs are highly portable rechargeable batteries and are extremely easy to use.
The NiMH rechargeable AA sized battery has a capacity of 1300 mAh. USBCELLs will charge up to about 90 percent in about 5 hours after plugging to a USB port of your computers, tablets, vehicles, gaming consoles or any other portable device. The intelligent USB charging is specifically designed for portability. The fact that you can easily recharge them by connecting to any mobile device via a USB port when its battery power is low and recharge them quickly is a significant catch, and you would not have to carry around the charger or adaptor cable while travelling. Moreover, what is bigger still is that USBCELL is an eco-friendly option that can be used for thousands for charging cycles. Forget having to add to the toxic landfill threat posed by alkaline batteries and protect out nature. About 15 billion alkaline batteries are thrown out every year!
Never run out of charge again just flip off the lid and out pops the USB plug and plug-in to your USB port on your computer or other devices and quickly recharge them. These green rechargeable batteries are an ideal choice for your home or office electronic gadgets because most of them use AA type cells. This incredible product is a boon if you travel a lot or you are on a vacation. You can ditch all the charging adapters of gadgets like digital cameras, radios, speaker docks or electronic musical instruments and even the charging adapter for the rechargeable batteries itself. It has usability and portability written all over it! In short, they are a far better, greener, easier to use and flexible solution than traditional rechargeable batteries. USBCELL batteries will cost you about $17.50 per cell. Swap standard rechargeable batteries with USBCELLs and lighten your backpack.