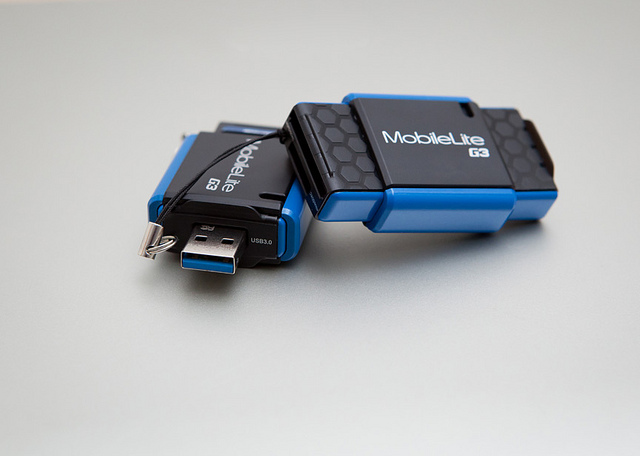 Memory Cards have become one of the most obvious sources of the data storage and data sharing today. They are clearly at par with the USB sticks. As these cards require too little space to be even considered and are available in plenty, Memory cards are a trend in the market. Memory card Reader is the way with which these Memory Cards can be used on the devices that do not support a memory card slot. Memory Cards Readers make easier to connect your Memory card with the device you want to share information with via USB output.
Since there has been a dearth in the market for USB 3.0 enabled Memory card readers, Kingston has introduced the Mobilite G3 USB 3.0, a third generation USB card reader at an attractive price of $12.
Tech Specs:
USB 3.0 with SDA 3.01 support
Portable and backward compatible, which makes the device, widely useful
Supports micro SD/SDHC/SDXC cards which makes it versatile
It is available with a two-year warranty
Dimensions: 2.45" x 1.16" x 0.646"
Kingston MobileLite G3 USB 3.0 Memory Card Reader's numerous specifications mentioned above makes it one of the best possible options of the memory cards available today. However, apart from all these benefits, there are other factors, which contribute to be its features and qualitative merits, as well. Those are as follows:
Essential flash card support adds to its overall versatility.
High speed Transfer of data like documents, photos and games at the speed of 5.0 GB/s.
A built in LED indicator along with easy to access 3 feet long USB cable.
It is Portable, easy to carry and efficient with high performance.
Performance:
When tested with the memory card of a reputed make, this Kingston MobileLite G3 USB 3.0 Memory Card Reader registered with the drive rates of 94 MB/s and 82 MB/s of read and write speeds which makes a strong statement about its efficiency and performance.
Final Word:
Kingston MobileLite G3 USB 3.0 Memory Card Reader is certainly a possibility that not only promises you plenty but also delivers with the efficient and boosted performance. In today's age of data storage and carrying, these gadgets make the difference. Hence, Kingston MobileLite G3 USB 3.0 Memory Card Reader is unquestionably an option to go with for sure!