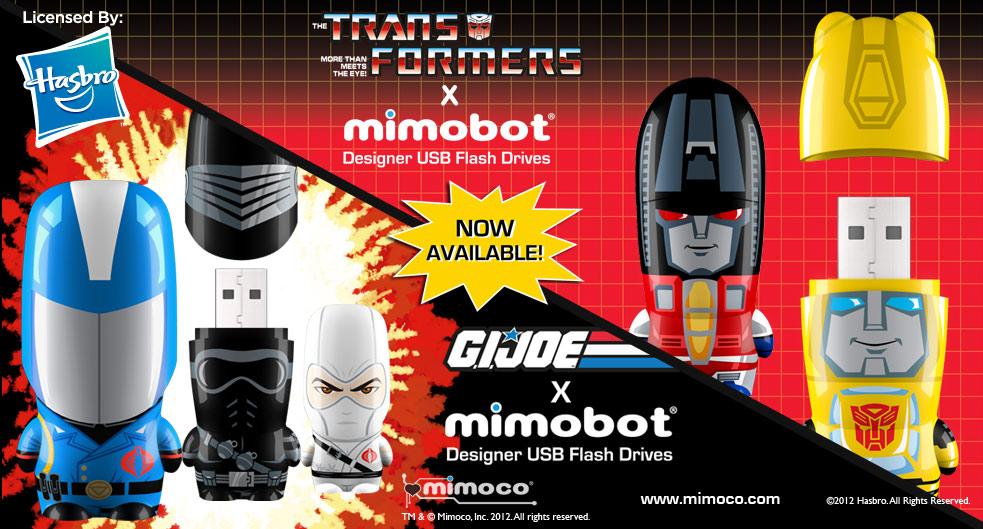 Leave it to Mimico and Hasbro to combine childhood nostalgia with USB flash drives. What results is the release of faithfully retro G.I. Joe X Mimobot and Transformers X Mimobot USB flash drive lines. These lines of designer flash drives were announced by Mimico and Hasbro just this month in San Diego, California at Comic-Con International, the perfect venue for such niche and novelty items. If you've been feeling a little too square because of your sleek, all-business flash drives, now maybe the time to take the plunge into the fun side of USB drives while reminiscing about the old days of comics and cartoons.
Despite the initially gimmicky feel of the Mimico and Hasbro announcement, it is anything but that. The G.I. Joe and Transformers flash drives (also called Mimobots) are offered in storage capacities that go up to 64 GB, some serious memory for a product that can be mistaken for a toy. To make the deal even sweeter for fans of either G.I. Joe or Transformers, the flash drives are preloaded with digital copies of the original 80's comics, episodes of the original cartoons, screensavers, wallpapers, and other fan paraphernalia.
There's even sound software that runs once your computer detects the drives. All these might seem over the top to some, but it's perfectly aligned with Mimico's vision: to successfully incorporate pop culture characters or references into data storage devices, like USB flash drives, which are often taken for granted. And it is this vision which directly influences the hardware design. The USB's body is painted into a G.I. or Transformer with the USB cap serving as a mask or cover that eventually reveals the face underneath. Representing G.I. Joe are Snake Eyes, Cobra Commander, and Storm Shadow. The Transformers Mimobots come in Bumblebee and Starscream designs.
The Mimico G.I. Joe and Transformers USB flash drives retail from $20 for the 8 GB units to $70 for the 64 GB ones. The drives can be purchased online at Mimico's website and in a few brick and mortar stores worldwide.