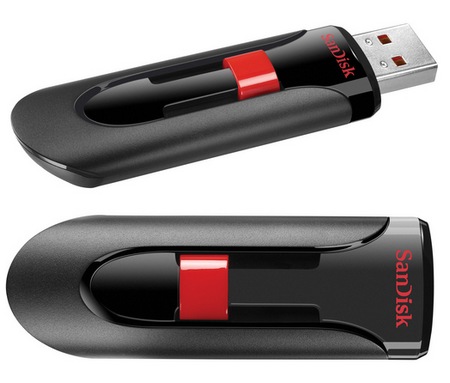 Looking to double your laptop's storage memory? The days of having to install costly laptop parts may be over. With SanDisk's recent release of the Cruzer Glide USB series, users weighed down by their laptop's or netbook's skimpy storage capacity can breathe a sigh of relief. The Cruzer Glide series offers a unit capable of carrying a whopping 128 GB in portable memory. If development like this continues for SanDisk, it is not only SanDisk's flash drive competitors who have to worry, but also portable hard drive competitors.
The 128 GB Cruzer Glide, also known as the Glide Q3 model, offers unprecedented capacity and the ultimate portability. The size of any ordinary USB in the market, it's hard to envision that the model can hold so much. It has a very willing market in ultra-thin laptop users, whose hard drives are often downsized to the same 128 GB storage capacity. Additionally, the USB also insures the safety of the user's music, photo, video, and document files with the inclusion of SanDisk's Secure Access Software Protection. With 128-bit AES encryption, the software allows the users to guard their files from prying eyes. A password protect feature provides the first line of defense for the files contained. The software SanDisk also lets consumers use Cloud Catcher and backup data online to an account offered by the company Yuuwaa.
Besides being a high-quality and high-storage USB drive, the Cruzer Glide Q3 is also a cleverly designed unit. Housed in a plastic casing, the USB possesses a sliding USB connector that the user can retract into the casing when not in use–a handy design that should eliminate any worries regarding damage stemming from exposed connectors. The sliding connector also eliminates the need for a cap, a considerate gesture for those hassled constantly by a tiny piece of plastic. As an assurance of its quality, SanDisk has bundled the Cruzer Glide Q3 with its two year limited warranty, so users can return the drive or have it fixed, in case of defects. Currently, the SanDisk Cruzer Glide Q3 is retailed at $249.99. While, it certainly is not cheap, it can serve as a useful tool for those in need of more data storage.