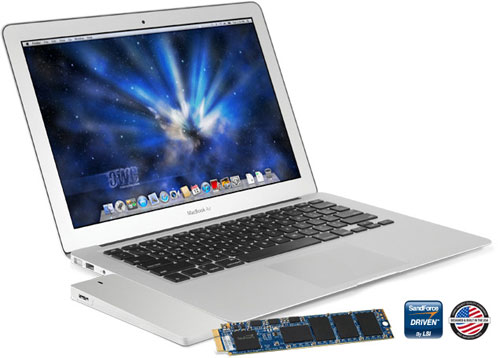 If you are looking to upgrade the SSD on your previous generation MacBook Air, you would have just figured out the SSDs in the Apple store are very expensive-costing as much as $1000. You will probably want to go with someone other than Apple for your SSD upgrade needs. Other World Computing (OWC), a company that manufactures hardware and accessories for Macs and other iStuff has come up with Aurora Envoy, a SSD replacement kit for the MacBook Air that would while upgrading your old SSD by up to 8 times will also enable you to use your old SSD as an external USB 3.0 drive.
The Aurora Envoy enclosure kit comes for an additional $20 with any of their Mercury Aura Pro Express SSDs. The enclosure is made of aluminum and matches the sloping design of the MacBook Air. The Mercury Auro Pro Express SSDs come in speeds of 3GB/s and 6 GB/s with jaw dropping prices of $250 for the 180 GB model of 3 GB/s and $780 for the 480 GB model of 6 GB/s (2010 generation MacBook Airs support speeds of up to 3 GB/s only).
In spite of the highly attractive prices of the SSDs, the Aurora Envoy enclosure kit is what makes them most interesting. Tech critics have called it the number 1 solution for SSD upgrades, while the Mac fans are so excited and have claimed that they would prefer OWC SSDs over Apple's. The installation of the SSDs is simple and could be done by yourself in less than 15 minutes.
You could buy the Aurora Envoy enclosure kit alone for $50.