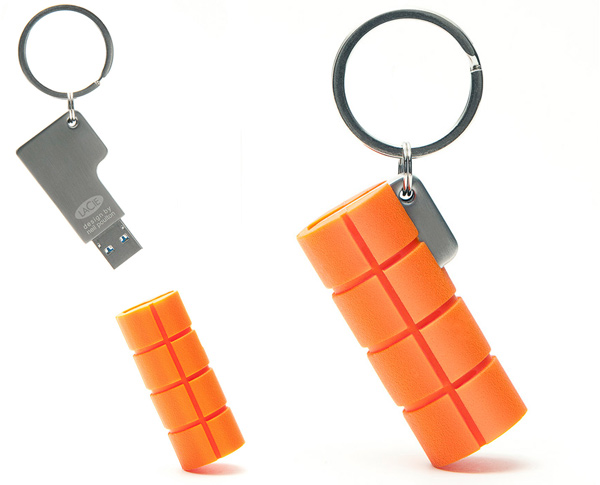 There is often minimal protection for valuable flash drives. To prevent losing your flash drive, they often hang casually on your keychain and are exposed to the same elements and adventures that you are. However, unlike you, they do not get to protect themselves with a raincoat from rain. But flash drives need protection because they are extremely valuable – they hold our most important files. If a flash drive gets destroyed, it is nearly impossible to recover those pertinent documents.
LaCie, a brand known for its collection of innovative memory storage devices, knows that your flash drive has to be durable so it can go with you on whatever adventure life may take you. Hence, it created the LaCie RuggedKey, a USB flash drive that can protect your files in all sorts of weather conditions, and even from unauthorized access.  Covered in a bright orange bumper and accompanied by a key loop, the RuggedKey protects your files from heat, cold and 100 meter drops. Plus, it is IP-54 certified, so you can be assured that your files are protected against damage from dust and water.
The LaCie RuggedKey also keeps up with high-end and cutting-edge USB technology. It is a USB 3.0 device and boasts superior speeds (up to 150MB/s) so you can expect high transfer speeds in this small yet powerful device. Not to worry if the corresponding devices that you are using with it aren't USB 3.0-friendly because it is also backwards compatible.
Since LaCie wants to ensure that your files are not only protected from elements but also from intruders, the RuggedKey features an AES 256-bit encryption which necessitates a password in order to access the files – a must-have and a feature that most flash drives cannot deliver. Additionally, in the case that you do leave or lose the RuggedKey, it comes equipped with the Wuala Secure Cloud Storage system which allows you to keep one copy of data on the key and another in a data cloud.
It's about time that you say goodbye to weak USB drives that do not protect your important files and even lose them or allow other people access. With the LaCie RuggedKey, your files can be as tough and on-the-go as you are! This USB device is available in 16GB and 32GB capacities.