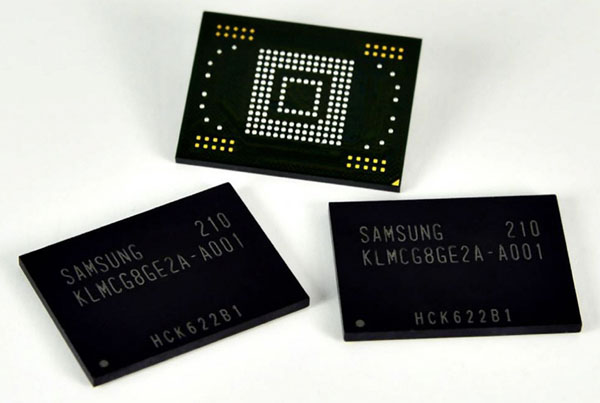 In another move to keep itself known as one of the global leaders in memory technology, Samsung has announced to the public a new embedded multimedia memory card (eMMC) meant to give a significant boost to smartphones and tablets.
Samsung's multimedia memory card, the eMMC Pro Class 1500, will soon be equipping new mobile devices with the fastest reading and writing speeds in the market, significantly improving user experience along the way. Samsung stated that the eMMC in development will come in 16, 32, and 64GB versions to accommodate the widest range of devices in the market. With a near negligible weight of 0.6 grams (0.4 grams lighter than a typical paper clip) and an unobtrusive thickness of 1.2 mm, the eMMC Pro Class 1500 fits the "thin is in" motto of smartphones and tablets in the market.
The Samsung eMMC Pro Class 1500 boasts theoretical speeds that can run four times as fast as the eMMCs out in the market right now. Samsung hopes that the unit's speed will pave the way to faster web browsing and social networking, high quality gaming, and better HD video recording and playback in mobile devices. Since the Pro Class 1500 is designed to the latest eMMC specs and has some pretty impressive features, it should have no trouble doing so.
According to Samsung, the device can read data at speeds of up to 149MB/s and can write at up to 50MB/s. Additionally, it offers an inputs and outputs per second (IOPS) figure of 1500, which, as previously mentioned, is four times faster than any current eMMC. And for those interested in storage, the 64 GB version of the Pro Class 1500 can store 16,000 MP3 files into its compact design, making it an innovation that should cause worry for Samsung's main competitors.
To round it out even more, Samsung's new eMMC is equipped with an SDR-200 interface, which allows it a maximum bandwidth of 200 MB/s, alternative boot, multi-partition, and file sanitizing among many other features. The overall outcome is a device that is not only ultra-fast and storage dense, but secure and efficient, the perfect accessory for any smartphone or tablet.