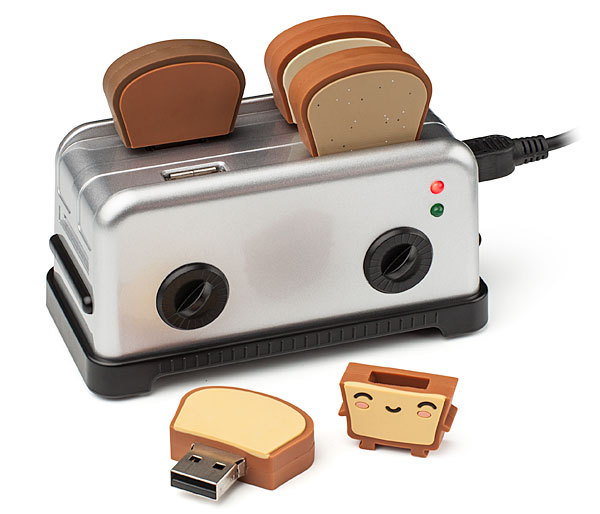 Say goodbye to your boring USB flash drives and hubs. With all of the USB flash drives that are out there on the market, there should be an endeavor to capture the playful side of what is a seemingly ordinary device for the ordinary practice of external data storage. With the new USB Toaster Hub and Thumb drives from ThinkGeek, consumers can increase their computer's number of USB hubs and externally store their data in a very delightful way that is sure to get rid of the bore out of data storage (but may make you hungry for a particular breakfast and sandwich item)!

The USB Toaster Hub is, as you can gauge, a tiny toaster-shaped hub with 4 slots for your USB drives and one slot for your SD card.  Silver with black dials, you don't have to worry about burning your toast because after all, it is a USB hub rather than a portable kitchen appliance (it is highly recommended that you do not put anything in the slots other than USB drives and SD cards as it will most certainly not toast your bread).  It comes with a meter-long USB cable and contains a speed of up to 480MB/s.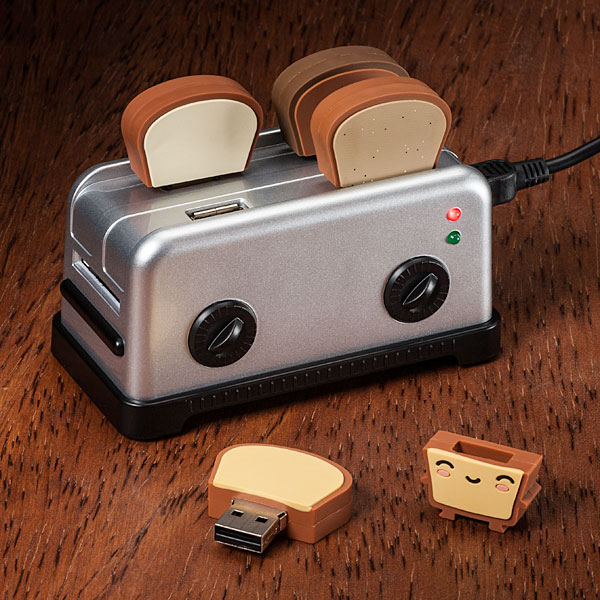 The fun does not stop with the Toaster Hub. Although it accommodates any type of USB, ThinkGeek has also created four USB thumbdrives to complement the Toaster Hub which are shaped as tiny pieces of toast. We would say that it looks good enough to eat had it not been for the little faces and names that have been given to each piece of toast: Butta is a yellow and happy smiley piece of toast; Tato is a white piece of toast with a mild expression; Ry Ry is a tan and solemn piece of toast; and Crisp is a brown and (you guessed it) sad piece of toast as he has been burnt.  Each toast-shaped thumbdrive is available in a 4GB capacity; therefore, if you collect them all, you get 16GB of data storage plugged in your adorable toaster-shaped hub.
External data storage and increasing the number of USB hubs on your computer cannot possibly get any cuter with ThinkGeek's Toaster Hub and Butta, Tato, Ry Ry and Crisp.  With this neat USB hub and thumbdrives, the days of boring data storage are toasted and gone.