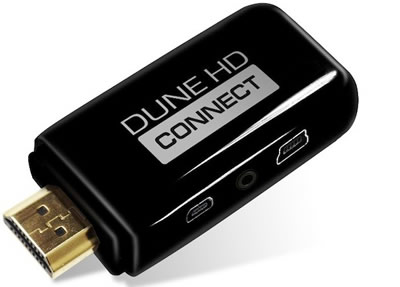 The Dune HD Connect Smart TV stick looks like a standard USB flash drive until you look closer and find out that it's actually a USB dongle device. Since it's a dongle device, it means that the Dune stick has a lot of surprises tucked into its tiny form. Not planning to disappoint, the HD Connect Smart TV stick sports an HDMI connection, a microSD slot, built-in Wi-Fi, and optional cable and TV tuners, Z-Wave connectivity, and 3D option.
The Dune HD Connect Smart TV stick's main claim to fame is that it is currently the world's smallest full HD media player. The HDMI port of the stick can be plugged directly into your HDTV. This makes it possible for you to set up a home media network, since the stick's built-in Wi-Fi will give you access to digital content available in your PC or the internet. The optional cable and TV tuners and 3D option are introduced into the picture to expand the dongle stick's appeal to even more consumers. This USB device is unique in the world, because it's the smallest!
According to Dune, the HD Connect Smart TV stick can run most file formats and do so in full 1080p HD quality. If you choose to obtain the optional Z-Wave connectivity of the device, the stick will give you control of devices in your home that are compatible and receptive to the Z-Wave's communication protocol. The inclusion of a microSD slot into the TV stick introduces more variety into the potential media network. Any compatible content from the SD card can be played by the Dune HD Connect Smart directly on your TV.
Dune's smart TV stick is already being regarded as the best solution for consumers looking to turn their HDTVs into Smart TVs that allow a variety of content to be enjoyed right in the living room. The date for the device's official launch hasn't been set yet, but Dune states that the TV stick will be released before the end of this year.
As of now, the retail prices for the HD Connect Smart have not been announced in any official press release or been leaked to the public.