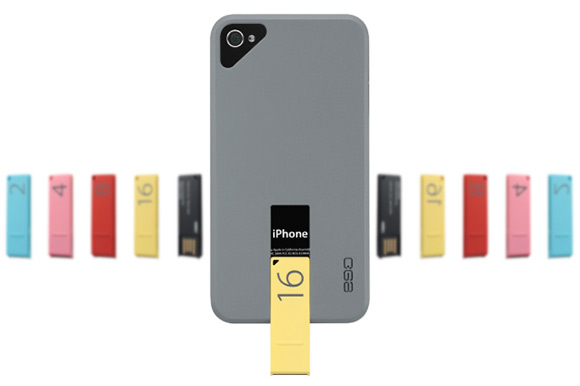 Have you ever gone out of the house in a hurry to find out later that you forgot to bring a USB drive with you? We can't avoid moments of hastiness and thoughtlessness like that but what can be minimized is having to worry about last minute searching for your USB. Now, here comes a cool solution from Ego.
Ego, a phone accessories company known for designing for Apple products, has recently released its Hybrid Series of snap phone cases. Made to be compatible with iPhone 4, iPhone 4S, and Samsung Galaxy S3, the snap case is unique because it also serves as storage for your USB flash drive. A slot has been designed into the part of the case that would cover the phone's back to reduce the chances of going anywhere without a USB.
Assembly and disassembly of the case is as easy as snapping your phone in or popping it out. The guesswork associated to other phone cases are left out here. Since the Hybrid series was designed with both Samsung S3 and the iPhone 4/4S in mind, the case protects what it needs to while keeping access to all ports and controls in the phone models.
The case is constructed from a type of scratch- and impact-resistant resin that subscribes to international and advanced specifications. Sporting a matte finish, the line of phone cases comes in seven colors to maximize the opportunity for visual interest. You can choose to have the USB and the case in the same color or not. The cases come in blue, pink, yellow, light green, red, black and white (only available for the Samsung Galaxy S3), while the custom USB flash drives come in the same colors, except for white.
As for the flash drives included with the phone cases, storage capacities range from 4GB to 16GB. The drives were designed to be slim and light, so they don't detract from the sleek design of the case. They are also USB 2.0 and compatible with Windows, Mac, and Linux. It should be noted that the integration of the USB into the phone case is strictly physical; there's no Bluetooth connectivity that allows your phone to access the files on the USB.
Ego's Hybrid series of phone cases for the iPhone and the Samsung S3 retail for the following prices: $34.95 for the 4 GB model, $39.95 for the 8 GB, and $49.95 for the 16 GB. Enjoy your new phone case!