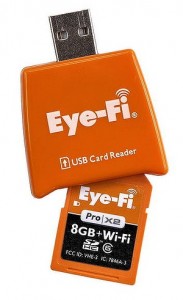 Founded in 2005 with the main goal of providing consumers with SD and SDHC memory card with Wi-Fi capabilities, Eye-Fi has now released its new series of Wi-Fi SD memory cards tagged as the "X2 series." An improvement over the previous lines, the X2 series of SD memory cards offers its expected wireless capabilities and a few of notable features that make it easier for users to enjoy the benefits of wireless image transferring.
"No wires" is the main selling point of the Eye-Fi SD memory cards. How exactly are they wireless? Simple, the X2 series cards are embedded with Wi-Fi transmitters. These transmitters make it possible for the cards to transfer data over a Wi-Fi network, say, from your digital camera to your PC, tablet or smartphone. Set-up files for the cards are already in them. So, all you need to do to activate the wireless function is to plug the Eye-Fi SD card into your computer to get the wireless security codes to register in the card. Once you've completed the setup, the card is ready for use. The SD card's Wi-Fi feature is activated as soon as the card is plugged into a camera, and the camera is turned on. From there the card will automatically search for a network and a device to connect to. When that's done, the card will immediately begin the image transfer process.
The convenience of the Eye-Fi Wi-Fi SD cards is apparent. There's less hassle involving cables, and the process of transferring images from your camera to your PC is less time consuming, since the transfer happens as you're shooting film. Eye-Fi has also incorporated some features to make the experience even better: Endless Memory, Hotspot Access, and Direct Mode. Endless Memory starts things off well; with this feature, pictures that have already been transferred to your PC are automatically deleted, saving you the hassle of having to stop taking pictures to change cards. Hotspot Access thanks to AT&T Wi-Fi, Easy Wi-Fi, and Harborlink means that you don't have to invest in Mi-Fi just so you can use your Eye-Fi card outside of your home network.
Finally, Direct Mode allows you to transfer image files from your camera directly to a mobile device, no computers necessary. Though transfer speeds with the Eye-Fi cards are still slower than direct transfer from a computer port, they still have potential. Storage capacities reach up to a decent 8 GB and, according to Eye-Fi, the X2 series is compatible with over 1,000 camera models. The prices for the SD cards are as follows: 4 GB for $59.99, 8 GB for $99.99, and 8 GB Pro X2 for $119.99.