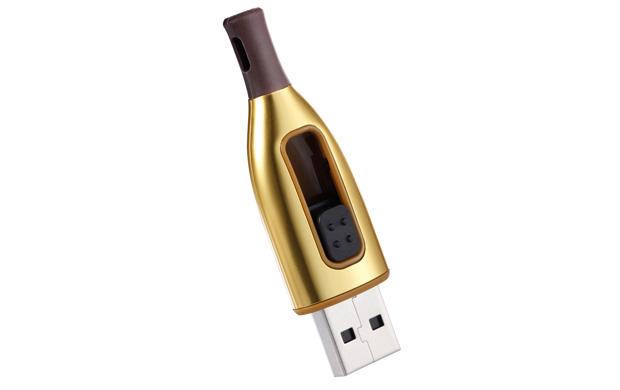 Custom shape USB flash drives don't always have to be austere and sleek. As a matter of fact, they can even be designed into one of the most celebratory things in the world: champagne. ADATA Technology Co., Ltd. announced just a few days ago its new DashDrive Choice UC500, a USB 2.0 flash drive designed as a bottle of wine.
The DashDrive Choice UC500 is not meant to be the "be-all, end-all" of USB drives. What it is, though, is an opportunity for consumers to have fun with their gadgets, whether it seems silly or not. With that in mind, the focus on speed and performance takes a bit of a back seat to overall design, though it's not necessarily an indicator of a low quality USB drive.
Now, the overall design. The UC500 is built from a glossy metal casing, and consumers have the option of picking from the two colorways it could come in, golden champagne and sparkling red. At the neck end of the wine bottle, the USB has an integrated hole that allows you to attach it to a keychain or a lanyard, whatever happens to be your preference. The flash drive's connector is encased within the casing when not in use. The retractable design has a twofold function; it serves to protect the connector and allows the drive's bottle shape to shine. One more advantage is the lack of a pesky plastic cap that can get hard to keep track of. What's interesting about the DashDrive Choice is its curve design. There are so many ways in which the drive might have turned out tacky, but the overall effect is one of style.
The ADATA DashDrive Choice UC500 comes in three storage capacities and retail prices: 8 GB for $10.99, 16 GB for $15.99, and 32 GB for $26.99. The drive is compatible with the three major operating systems and comes with a lifetime warranty. Weighing at just 7 grams (the equivalent of the total weight of 7 standard paper clips), it is also a fairly lightweight USB. So, if you want little fashion statement to go with your data storage, pick up a wine bottle.