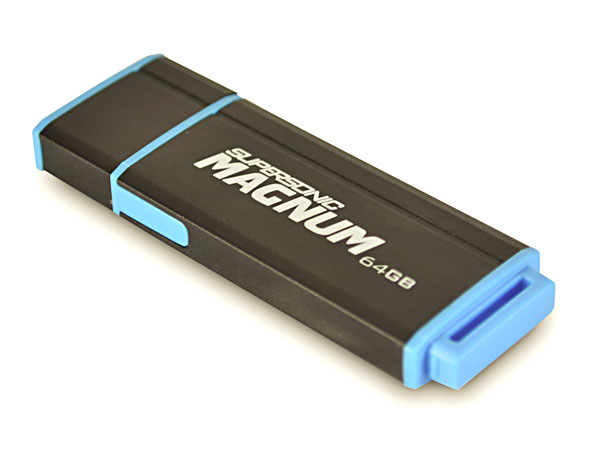 The Patriot Supersonic Magnum USB drive comes as another success story for Patriot, a company well-known for its high performance flash memory technology products. The Supersonic Magnum USB drive advertises high storage capacities and quality speed performance. The good thing about that is that reality closely matches boast.
Patriot's Supersonic Magnum comes in two storage capacities, 64 GB and 128 GB. Those figures are without a doubt high capacity. Pair that with excellent read and write speeds, and you've got a USB flash drive that makes the best of both worlds. The Supersonic Magnum is advertises as capable of reaching sequential read speeds of up to 200 MB/s and sequential write speeds of up to 120 MB/s. The drive can reach such high speeds thanks to the combination of USB 3.0 memory controller and 8-Channel technology.

Though the quoted speeds are nowhere near the speeds promised for USB 3.0 flash drives, a speed test conducted by CNET showed that the Patriot Supersonic Magnum broke its own advertised sequential read and write speeds. The CNET tests revealed that the flash drive's actual sequential read speed tops at 293.3 MB/s and sequential write speed tops at 173.8 MB/s. With speeds like that, the time involved with data transfer ought to be consistently low and should be moving things along a lot faster than USB 2.0 ever could. With a killer combination of high storage capacity and high speed performance, the Patriot Supersonic Magnum makes for an ideal USB drive when it comes to transferring large files.
Patriot didn't skimp on the flash drive's hardware either. At 22 grams, it's not the lightest USB flash drive around. But it more than makes up for this with a durable aluminum casing designed to withstand abuse of up to 15Gs of shock. The drive is also compatible with USB 2.0 to accommodate older systems. If there's one drawback about the Supersonic Magnum's design, it is that it's one and a half times wider than the typical USB. There's a very likely chance that it will make the ports beside the one it's plugged into unusable. The flash drive comes with Patriot's five-year warranty and is priced around $132 for the 64 GB version.