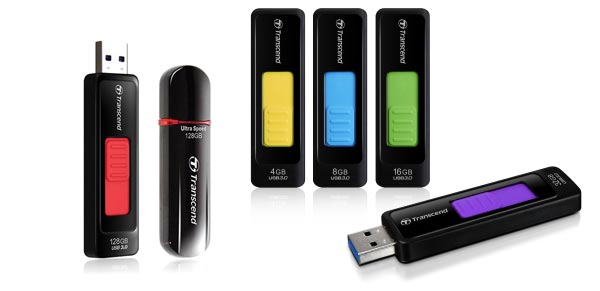 Transcend announced just a few days ago that two of its USB flash drives will be receiving a high storage capacity makeover. The JetFlash 760 and the Ultra Speed JetFlash 600 will be upgraded by the company into 128 GB capacities. The decision is based on Transcend's desire to pair fast speeds with unexpectedly huge storage capacities. With new storage upgrades of the JetFlash 760 and the JetFlash 600, Transcend will have managed fast speeds and huge capacities within the portable confines of the USB flash drive.
Thanks to the significant memory storage upgrade, the JetFlash 760 and 600 will be able to transport and backup a hard drive's worth of information within something you can hide inside a fist. The 128 GB available for each flash drive will be able to store more than 60,000 JPEG files, 32,000 mp3 songs, and 56 hours of quality video files.
But it's not all about storage with these flash drives. A lot of the appeal comes with the speed in which each model can deliver the stored files. The JetFlash 760 is the faster of the two, since it's equipped with USB 3.0 technology; the JetFlash 600 is, however, still decent despite its USB 2.0 disposition. The JetFlash 760 has reported transfer rates going up to 80 MB/s, while the JetFlash 600 has rates of up to 32 MB/s.
Both flash drives are encased in lightweight casings. The 760 comes with a retractable USB connector, while the 600 comes with the standard plastic cap for connector protection.
In drives of these sizes, it would be a bit sloppy to forego security features. Transcend does its part in that aspect by offering up a free download of its Transcend Elite data management software. The software is defined by its smart backup system and 256-bit AES encryption to name a few.
Both the JetFlash 760 and 600 are covered by Transcend's limited lifetime warranty. For the list prices of $199 and $179, you can get your hands on the 128 GB versions of the Transcend JetFlash 760 USB 3.0 and Ultra Speed JetFlash 600 USB 2.0, respectively.