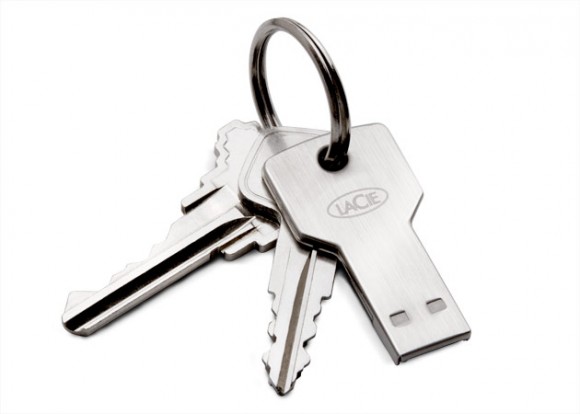 LaCie has long been known in the industry as a quality and sometimes luxury manufacturer of portable storage media. The company has already amassed a large number of USB flash drive models. Part of this legacy is their Key line, a range of USB drives shaped like keys that you can attach to key rings for a convenient mix of portability and storage. The line was first introduced in 2010, and LaCie is now adding onto it with the new PetiteKey USB, a more diminutive reincarnation of the previous models.
The LaCie PetiteKey USB flash drive is about 30% tinier than the previous drives of the iamakey line. It tips the scales at a little over eight grams. Possessing 41 x 21 x 3.5 mm dimensions, it is significantly smaller than a standard house key, meaning it doesn't make for an awkward fit when placed with the rest of your keys.
However, if it were to have one drawback, it would be that it's only USB 2.0. Depending on the consumer, however, this can turn into a plus, considering that USB 2.0 flash drives, because of the rise of USB 3.0, sell for much less. The LaCie PetiteKey could, therefore, make a fairly cheap backup flash drive. Being key-shaped, the flash drive does have an exposed USB connector.
Exposure doesn't directly mean damage prone in this instance. LaCie engineered the PetiteKey to be scratch-resistant and waterproof (it can withstand the water pressure of 100 meters of depth) in order to compensate for the perceived vulnerability of a capless connector. What results is a USB flash drive that can handle the some accidental mistreatment.
Some additional features include Private-Public, a program preloaded into the USB that provides the drive with 256-bit AES encryption. The drive also has a password protection system and is bundled with a two-year limited warranty. The PetiteKey comes in three different storage capacities: 8 GB, 16 GB, and 32 GB. Each capacity runs for the list price of $14.99, $22.99, and $40, respectively. And as a promo, LaCie is offering one year of equivalent cloud storage courtesy of Wuala Cloud Storage Service. The PetiteKey is available on LaCie's online store and selected retailers.