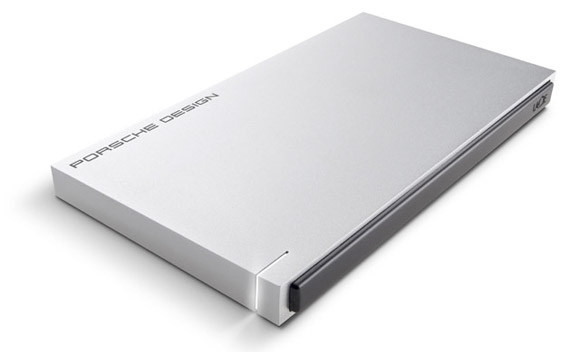 Slim drives are continuing to hog the spotlight when it comes to external storage media. Seagate, Western Digital and Toshiba are some of the more notable companies battling it out with each other to release the best and sleekest single-platter external hard drives consumers can own. Among all this, LaCie is taking a different approach by introducing its Porsche Design 120 GB SSD. While obviously not as spacious as the spinning disk variants offered by other companies, what the LaCie drive lacks in storage it certainly makes up for in speed and looks.
More accurately known as the LaCie Slim Drive P9223, the USB 3.0 120 GB SSD boasts a minimalistic design drafted by Porsche Design in collaboration with LaCie. The external drive is bus-powered and is only 11mm thick (a bit more than half an inch). It doesn't claim to be the thinnest drive out in the market, but compared to other externals out there, it holds its own in size. And as an upside, it's 30 percent thinner than its predecessor in the LaCie line, the spinning disk Porsche Design USB 2.0 500 GB. The model's casing is made out of solid aluminum, making for a very sleek appearance, one that has often been compared to the finish of the Apple Macbook Pro and Macbook Air. But sleekness isn't the aluminum casing's only contribution to the Slim Drive P9223. The enclosure also serves as a heat sink, eliminating any excess heat generated by day-to-day use that might affect the performance of the NAND chips inside. Another plus, the solid aluminum case also acts as a slightly shock-resistant case, preventing irreversible damage caused by accidental drops.
The Slim Drive P9223's main claim to fame is perhaps the fact that it can reach transfer speeds of up to 400 MB/s. Mac users will be glad to know that this speed of operation can be consistently reproduced in the OS. PC users, on the other hand, need to make sure that their computer is operating with a UASP USB 3.0 port. Operating at the top speed previously mentioned, the Slim Drive transfers data about ten times faster than USB 2.0. It also is the fast USB external hard drive in LaCie's current lineup of storage media devices. If you ever want to get your hands on this svelte machine, you're going to have to fork up $149.99.