If you're a Star Wars fan, you'll be more than glad to know that Tribe, an Italian company specializing on the manufacture of USB flash drives, will be releasing a collection of drives featuring characters from the popular movie franchise. Tribe's collection of flash drives will include a total of eight iconic Star Wars characters, which should be a healthy number whether it's to add to a growing collection or for starting a new one out modest.
Scheduled to be release in two installments, the Star Wars USB flash drives are already half out. Four USB designs out of the eight were released last November 30, and the characters now available are Darth Vader, Yoda, Stormtrooper, and Chewbacca. The other four characters, Darth Maul, Boba Fett, R2-D2, and C-3PO, are scheduled for a follow-up release on December 6.

Each drive from Tribe comes with a hardware storage capacity of 8 GB bundled with 1 GB extra of online cloud storage. As is standard when it comes to character USB designs by Tribe, the character's head functions as the USB drive's cap; you pull it off to reveal the USB connector that you'll plug into your computer's port. Conveniently, the flash drive also comes with a chain, so you can easily store it with other objects, like your set of keys, for example.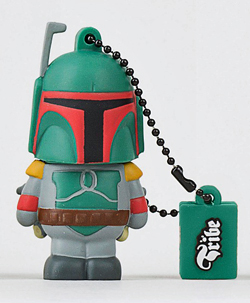 Each Tribe Star Wars drive will set you back 19.90 Euros (about $25). If you want to get a hold of the whole USB collection in one go, you can but it's going to cost you even more. The price for the whole line of Star Wars flash drives is 149.90 Euros (around $188).
If you are wondering why the prices are in Euros, that is because Tribe, for one reason or another, has decided not to make the drives available for the US market (just yet!). That minor inconvenience wouldn't, however, stop an avid fan. Enlisting the help of some relatives or friends living on the other side of the pond should provide a way for US consumers to get their hands on this line of Star Wars USB flash drives.
Are you excited to have one of these? We can't wait to hear from you when you have grabbed one. May the force be with you!