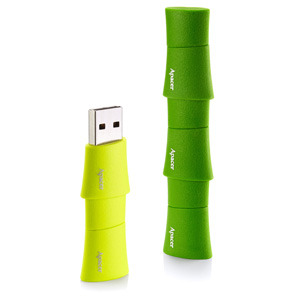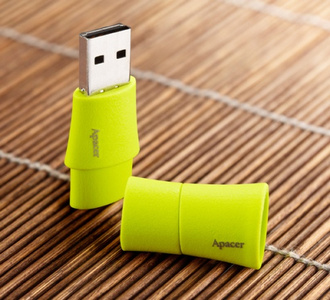 The majority of USB flash drives out there go for either a sleek or practical look. Some make use of nostalgia to appeal to consumers. Others, like Apacer's new USB, appeal by offering something completely different. Apacer has recently come out with new bamboo custom shaped USB flash drives that give a natural and even Zen feel to your workspace.
The Apacer AH153 and AH137 are super-mini green bamboo ring-colored USB flash drives. And they offer a unique experience and unexpected design to those who want to avoid run-of-the-mill flash drives. Both USB drives have a "step-by-step" design that allows users to connect separate drives together into one, transforming a collection of these Bamboo USB drives from Apacer into something that's reminiscent of a bamboo stalk.
The bamboo ring design of each USB also allows for better grip of the device when it comes time to plug it into or unplug it from a USB port. The flash drives come with a cap, which may turn off some users, but it has been designed to keep it from getting lost in the day to day use of the drives. To help even more with grip and to add to the general wear-resistance of the drives, Apacer outfitted the AH153 and AH137 with durable rubber casings, which also make the drives water-, dust-, and shock-resistant.
The Apacer USBs don't stop offering impressive features there. The flash drives use advanced chip-on-board (COB) technology and include ACE compression software that has the potential to free up storage space by 500%. So, if you've doubted whether these Bamboo drives are up to the job of regular hard drives, it's now clear that they are.
Though they have a lot of similarities in hardware, the AH153 and AH137 do differ from each other. The AH137 is USB 2.0 and offers storage capacities ranging from 4 GB to 32 GB, while the AH153 is USB 3.0 and offers storage in the range of 16 GB and 64 GB. Being USB 3.0, the Apacer AH153 is equipped with the new USB interface's SuperSpeed specifications. The flash drive can transfer data in speeds that can reach up to 90 MB/s.