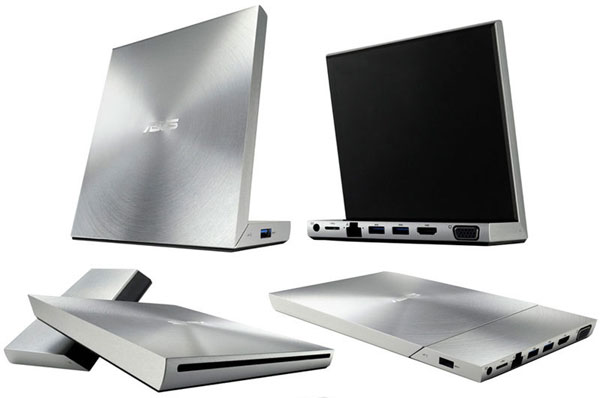 ASUS's VariDrive USB 3.0 Docking Device is essentially a combination of two normally separated devices: an external slot-loading combo DVD drive and a SuperSpeed docking station. USB 3.0 specifications and DisplayLink's SuperSpeed Technology allow the docking device to capably expand ultra- and netbook capabilities by matching whatever speed requirements there might be.
Ultimately, a godsend for multi-media users out there, the VariDrive USB 3.0 comes with a variety of ports for some flexible connectivity options. The docking device is equipped with three USB 3.0 ports and one port each of HDMI, HDMI audio, VGA, and Ethernet. Additionally, the DVD drive that the VariDrive USB 3.0 comes with operates at 8x speed.
In partnership with DisplayLink, ASUS announced the arrival of its VariDrive USB 3.0 Docking Device at the CES 2013 trade show. The media docking device is one of the latest gadgets in innovative computer peripherals, garnering enough success and popularity in the fair to be given an Innovations Award in its category, Computer Peripherals.
Multi-functionality plays a very important role in today's technology scene, and the VariDrive USB 3.0 is obviously along for the ride. With ultrabooks and netbooks sacrificing drives and ports for more portability and a thinner profile, this ASUS docking device will be a very welcome expansion for consumers who own either a netbook or an ultrabook.
Being a combination of the things that are lacking in today's netbooks and ultrabooks isn't the only thing going for ASUS's VariDrive. Its plug and play capability promotes user-friendliness by removing all the hassles of installing the device to every computer it may come in contact with. All these features are packed into a slim and sleek form factor to ensure extreme portability. The enclosure's design is unique in itself. It allows users to tweak with the entire dock based on their preference. By twisting, tilting, or folding in a number of ways, you can go from a laid-out flat dock to one in the shape of an "L."
The ASUS VariDrive USB 3.0 Docking Device will soon be available for retail worldwide. The company is yet to tell the price for the new docking device.