The Leviton 20A USB Charger Receptacle is an improved version of the original 15A receptacle; it's an attempt by the company to keep on improving the spectrum of its devices' various applications. The new Leviton receptacle latches onto the idea that many people charge their USB devices in the kitchen, simply because it's typically one of the high-traffic areas in a house. Being tamper-resistant makes the Leviton USB Charger Receptacle a safe device to use in the kitchen while providing an outlet which consumers can use to charge more power-hungry devices.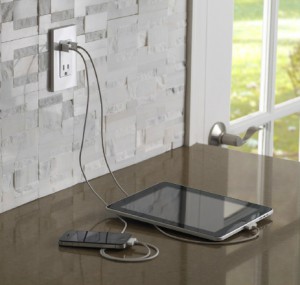 A company known for manufacturing residential products used by builders and electrical contractors, Leviton has released a new version of its 15-ampere charger receptacle, the 20-ampere USB Charger Receptacle.
The charger receptacle has a tamper-resistant feature that makes it safe to charge USB devices in the kitchen. What's more, thanks to its new 20A/125V specification, the Leviton receptacle has enough power to charge small kitchen appliances. Perfect for the many consumers who end up charging their devices in the kitchen while whipping up meals or drinks for family and guests.
The improved Leviton receptacle can charge up to two USB devices requiring only standard voltages. There's an additional port reserved for devices requiring larger power currents. Because of its power output, the Leviton USB Charger Receptacle can charge a variety of devices, including smartphones, tablets, gaming devices, and digital cameras.
Moreover, the receptacles are designed with the USB ports in a vertical orientation, keeping tangles at a minimum and reducing the stress put on the cables in the process. As further proof of innovative engineering, the charger receptacle's USB ports are equipped with smart chips that automatically configure charging power depending on the plugged device. The USB Charger Receptacle remains compliant to U.S. and Canadian standards for electrical devices; it's also backed by Leviton's five-year limited warranty. It's also flexible enough to be used not only at home, but in offices, hospitals, and colleges.
The Leviton USB Charger Receptacle comes in light almond and white colorways. It's available for retail at selected distribution channels. To check for availability in your area or online, be sure to visit Leviton's official website.