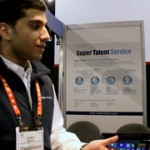 Roman Singh Nahal from Super Talent, took a minute to talk with us at CES 2013 in Las Vegas and show us how fast their Microsoft authorized USB flash drive can load up! Not only is the flash drive sleek easy to use. The cap stays on through just about anything!
This is a drive we love! Coming from a company with consistently strong products. What is amazing is that it uses Solid State Drive technology and puts it in a perfectly styled and sized flash drive! GENIUS!
The Super Talent Microsoft-certified Bootable Flash Drive, the RC8 is an 8-channel Solid State Drive that's the size of a USB flash drive! The drive is capable of booting and running the full version of Windows 8 in just seconds.