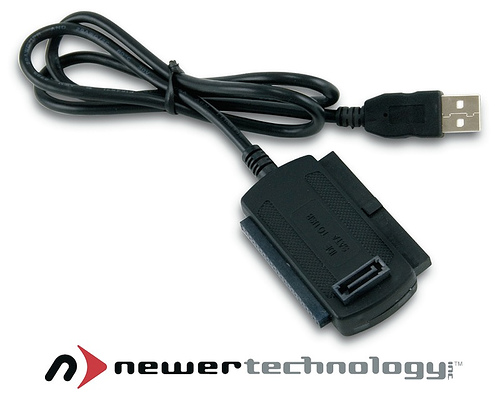 Dubbed by Newer Technology itself as the "Swiss Army Knife of Disk Connectivity," the Newer Technology USB 3.0 Universal Drive Adapter is a three-in-one adapter that lets you transfer files easily between new and old drives or just transform an old internal drive into an external one, taking the hassle out of a long inconvenient procedure.
The advance of technology is so fast that it's more accurately plotted out in months, instead of years. Companies are constantly releasing new products to the market in an attempt to best out competitors and provide the latest and greatest gadget for consumers. It's no surprise then that this trend is strongly present in the area of storage media. Because of the quickly increasing storage capabilities of new products, internal drives are getting changed often, leaving consumers with the trouble of having to move files from an old drive to a new one.
The Newer Technology USB 3.0 Universal Drive Adapter lets the user connect to any 2.5-inch, 3.5-inch, or 5.25-inch internal hard drive or optical drive through one of its connection ports, provided that the drive in question has standard IDE/ATA/ATAPI 40-pin connector or a SATA interface. The Universal Drive Adapter connects the internal drive full of files to the computer with the newly-equipped drive though a USB cable. Connect your drive to the adapter, connect the adapter to a USB 3.0 cable, and then plug the cable into your computer's USB port. Once your computer recognizes the drive, the ease of drag and drop file transfer will do its magic. An LED light has been designed into the universal adapter to make sure that the drive is securely connected to the adapter and working during file transfers. According to Newer Technology, file transfer rates can reach speeds of up to 300 MB/s. Despite being USB 3.0, the adapter also accommodates USB 2.0 and USB 1.1 standards to eliminate any potential issues with backward compatibility. For a little insurance in the future, the Newer Technology Universal Adapter also supports drives with storage capacities of 4 TB.
Purchase of Newer Technology's "Swiss Army Knife" adapter for the price of $39.99 comes with a one-year warranty. The adapter is compatible with Mac, Windows, and Linux. It works like any plug and play device, but should you want more detailed instructions, a manual is available in Newer Technology's site in the form of a PDF file.