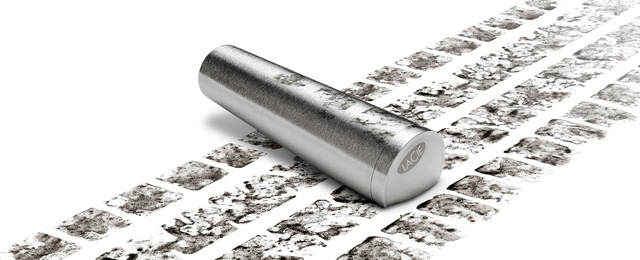 LaCie has had a long-running record of providing consumers with extremely high quality (and sometime fairly luxurious) storage media products. It comes as no surprise then that the flash storage media company has once again upgraded its XtremKey USB 3.0 flash drive, offering, this time around, extremely durable features meant to survive most any potential disaster nature can deal out. The LaCie XtremKey is solid enough to be a successful addition into its line of industrial-strength storage media products.
The LaCie XtremKey line of USB flash drives has already received a number of awards recognizing its innovative and extremely durable design. The latest incarnation of the USB drive, the LaCie XtremKey USB 3.0, honors the recognition to the script. The flash drive is waterproof and can withstand the water pressure of 200 meters. The XtremKey achieves this feat by taking its inspiration from a "waterproof screwing closure and thick metal casing." The concept is realized in the flash drive by a closure that is made up of durable screw threads and a rubber O-ring for a watertight seal that also contributes to the drive's ability to undergo severe pressure. It's obvious that LaCie invested in the XtremKey's design. The protective cap, just like the casing, is made from ZAMAC metal alloy, a material so strong that it can last through extreme instances of shock, drops and pressure. The flash drive's metal material also ensure that the data inside will be secure whether the temperatures are at a frigid -30 degrees Celsius or a blazing 200 degrees Celsius.
With such a dedicated hardware, it becomes essential to pay attention to actual software performance. And LaCie does. The XtremKey USB 3.0 is set for storage capacities of 32 GB and 64 GB. File transfer speeds are at a smooth sailing 230 MB/s to allow for quick transfer of large files. The flash drive also comes bundled with LaCie's Private/Public software, so you can determine which files are strictly for your eyes only. To get things more secure, there's 256-bit AES encryption with password authentication. In the unfortunate event of the drive getting lost or stolen, you won't be a total loser.
You can purchase the LaCie XtremKey through LaCie's online store or through partner retailers. The price, starting with the 32 GB version, is set at $89.99.