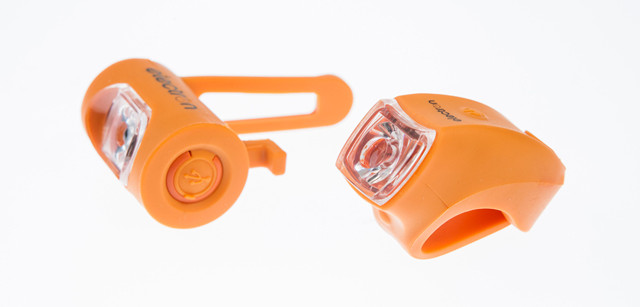 USB devices are becoming so universal that you can really find them just about anywhere. Even in cycling, where you would think they'd never make it because of obvious physical limitations when engaging in the sport. Electron Milli's USB Rechargeable LED lights turn that expectation on its head, though.
The Electron Milli USB Rechargeable LED lights come in a twin pack. The lights are housed in silicone jackets that can come in any of six colors (lime green, black, blue, orange, red, or white). In terms of complex sounding technology, the USB rechargeable LED lights are embedded with a single diode that operate under "focused magnifying lens" technology that makes the output of energy more efficient. Diddy cables (there are two of them) that come with the USB rechargeable lights are provide about 2.25 hours of power per piece.
The front part of the USB lights comes with male and female cables that can be fastened to the bulge of a handlebar. There are three settings for the way the lights work: constant hi, constant low, and flashing. It may not be the most powerful set of lights in terms of lumen, but it has enough power to light the way in the dark to about 200 meters out. Attaching a light at the rear end of your bike wouldn't be too much of a problem if your bike is a standard size. The rear light can hook to the seatpost through a hook and clasp closure and provides only some mild discomfort (brushing of the inner thigh) in some users.
There are some more disadvantages with the Electron Milli USB Rechargeable LED lights. You can't replace the lithium ion cells inside, meaning that you will eventually have to throw out a pair and buy some ones. Another minus involves only some of the LED lights: fit. Some of the LED lights produced by Electron Milli are too loose and have troubles staying attached to the bike.
Overall, the Electron Milli USB Rechargeable LED lights are decent lights to have as a backup. They fetch for £29.99 when purchased through www.madison.co.uk.